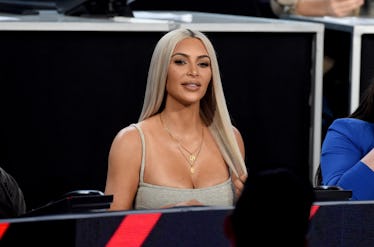 Kim Kardashian Did A Couples Costume For Halloween, But Not With Kanye
Kevin Winter/One Voice: Somos Live!/Getty Images Entertainment/Getty Images
Get ready to want to flip your hair, blast "I Got You, Babe," and tell somebody to SNAP OUT OF IT. Kim Kardashian and Jonathan Cheban channeled Sonny and Cher for Halloween — and it was a pretty spot-on recreation. Plus, Cher herself gave a stamp of approval, so we can all rest easy.
Let's flashback to Sonny and Cher's appearance at the 1973 Academy Awards. She was rocking bone-straight hair and a see-through gold sequined jumpsuit, cut in the middle to reveal some pretttty extraordinary abs. He was wearing a dark suit, bow tie, and that signature mustache.
Kardashian and her BFF Cheban did an impressive job of completely channeling the duo's red carpet look, down to the very last sparkly sequin.
The reality star took to Twitter on Oct. 27 to show off her Cher transformation process, and then threw in some videos of herself and Cheban grooving to "Love After Love" for good measure.
In case you can't tell already, Kim K really, really loves Cher.
"She's always had the sickest style, I'm obsessed with her," Kardashian told Harper's Bazaar. "To think that she was wearing these sheer dresses in the '70s and just what people must have thought back then."
And the resemblance between the two is pretty uncanny.
Cher was LOVING the costume.
And Kim K sent the love right back.
This actually isn't the first time that Kardashian has channeled the music icon. In August, the reality star posed for Harper's Bazaar in an array of Cher-inspired looks, including some '70s sequined numbers and crazy long extensions. Harper's Bazaar editor-in-chief Louise Nichol wrote in her editorial,
Bazaar's cover story with Kim pays tribute to another Armenian woman at the vanguard of style, Cher; a woman whose fashion choices 40 years ago must have caused as much of a furore as Kim's provocative selfies do today.
There is no denying that, like her style icon, Kim is a fierce presence who sets scant stock by what others think of her.
Kardashian added in her interview that Cher shares "deep family roots that are similar to hers."
"I always look up to other Armenian women," she said.
Once again, Cher gave two thumbs up and a whole lot of love.
Enviably shiny hair aside, the two women also seem seem to share a strong sense of themselves — despite any negativity thrown their way. Kardashian told Harper's Bazaar,
At the end of the day I still have to be me. If doing sexy shoots makes me feel confident, then I'm okay with it. That might not be appropriate for some people, and there's a time and a place. There's certain things I'll show my kids and certain things I won't show my kids. But generally I am okay with it. In moderation.
I feel confident in who I am. I work hard, I try to mind my own business and not focus on what other people are saying about me.
Cher has a similar outlook, telling The Guardian in 2013,
I never did anything I didn't want to. I was pushing an envelope that I wanted to push. I felt that looking the way I wanted to look and doing what I wanted to do made me more empowered.
If you'd like an even more condensed version of Cher's life moto, look no further than her Twitter bio, which reads,
Don't Litter,Chew Gum,Walk Past Homeless PPL w/out Smile.DOESNT MATTER in 5 yrs IT DOESNT MATTER THERE'S ONLY LOVE&FEAR.
So, basically, we should all spend our respective Halloweens channeling Cher and Kardashian, and being our baddest selves possible.