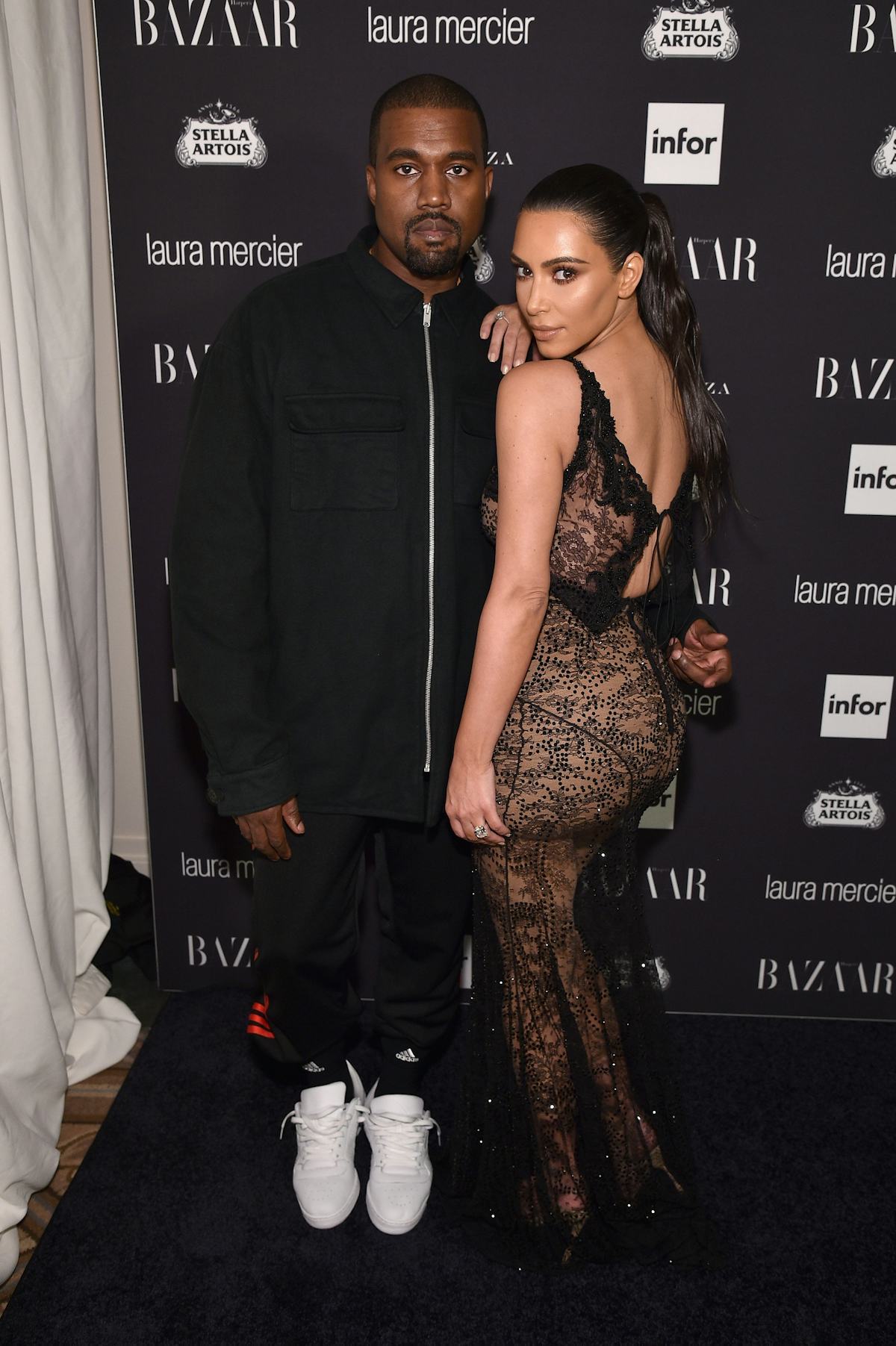 Kim K Wrote The Sweetest Message For Kanye West On Valentine's Day & I'm Sobbing
Bryan Bedder/Getty Images Entertainment/Getty Images
World, do you know what today is? It's a pretty big holiday for anyone who's in looove. I'll give you a hint: It typically involves chocolates, flowers, and usually a nice bottle of wine (I'm really just interested in the wine, TBH). Give up? It's Valentine's Day, duh! And apparently, celebrities aren't immune to the romantic holiday, either. Many celebs are taking to social media to gush over their significant other, which I find heartwarming and adorable (and makes others just want to vomit). But Kim Kardashian's Valentine's Day message for Kanye West is actually the cutest. It's short and sweet, but still shares some personal sentiments. It also shows a photo of the couple that I've never seen before, so I'm considering that a Valentine's Day present from them to me.
Kim and Kanye have been pretty low key ever since the birth of their daughter, Chicago. Newborns take up quite a bit of time, I guess? But of course, staying low-key for Kim K never implies staying quiet on social media, so luckily we're still #blessed with amazing posts on Insta and Twitter.
And for Valentine's Day, we were gifted once more by Kim's feed, with a gorgeous candid-looking photo of her and Kanye. In the picture, Kanye is holding Kim in a bear hug, and Kim looks so, so happy. Alongside the photo, Kim wrote a really sweet message to her husband. She said,
I love you to infinity! Happy Valentine's Day!!!
BRB, just going to cry in a corner over here.
Seriously, if that's not true love, then I don't know what is.
Kim actually told the story of how she and Kanye met and fell in love during the 10-year anniversary special of Keeping Up With The Kardashians, which will make you appreciate them as a couple even more than you already do. She said,
I met him I think in 2002 or 2003. He was recording a song with Brandy, and I was her friend. I vividly remember hanging out with him and then they did a video together, so I'd see him a few times. He was asking his friends: 'Who is this Kim Kardajan?' He didn't know what my name was. Right before I got married to Kris Humphries, [Kanye and I] were talking, and I just went a different direction. I think I had to go through that to figure out what I wanted.
She also revealed that after her split with Kris Humphries, Kanye invited her to Paris to see his fashion show, and the rest is history:
After my breakup, I was feeling really low and down and he said, 'Just come to Paris and see my fashion show.' He jokes that he put on this whole fashion show just to get a date with me. So I went there and I stayed with him, and that's where we started dating. I swear from the moment I landed, I fell madly in love with him and I thought, 'Oh my God, why didn't I do this sooner?' Like, this is what real life is like — love and fun and real support.
THIS IS PRECIOUS.
Can you even imagine when they get to tell North, Saint, and Chicago their love story? Can someone please make that a KUWTK special?
It looks like Kim is no stranger to adorably sappy posts to Kanye. On his birthday back in June of 2017, Kim posted a sweet message on Twitter and on her app, wishing him a happy birthday and telling him that he "inspires" her and joked that if she didn't wish him a happy birthday on social media, people would start to gossip (and LOL, because she's not wrong). On her app, she wrote:
Happy birthday, babe! I know you're not on social media anymore, so you're not gonna see it anyway—and I'm going to be with you to tell you! But if I don't post it, then all the stories will start so… I love you so much! Happy birthday!
Kim, you show so much love to your husband, and it is an inspiration. Today, may we all be as mushy to our partners as you are to Kanye.