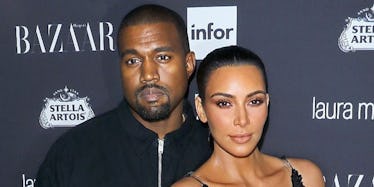 Kim Kardashian Wrote The Sweetest Message For Kanye West On His Birthday
Jim Spellman/Getty Images
It's Kanye West's birthday, y'all. And you know that means all of the Kardashians are coming through posting tributes to their one and only Yeezus.
They all took to their respective apps to wish the rapper a happy 40th birthday. Although, notably, he most likely won't see any of them because he no longer uses social media. (How I miss his epic Twitter threads.)
Kim Kardashian posted a tribute to her husband on her app and on Twitter.
Her tweet read,
Happy Birthday babe I love you so much! You inspire me every day to be a better person! I'm so grateful for you
And then, on her app, she posted,
Happy birthday, babe! I know you're not on social media anymore, so you're not gonna see it anyway—and I'm going to be with you to tell you! But if I don't post it, then all the stories will start so… I love you so much! Happy birthday!
The post was paired with a picture of the two of them. Kim's looking at Kanye and giving him a kiss face, and Kanye, naturally, is staring directly into the camera, presumably giving his reflection Kanye's best.
'Cause remember, no one loves Kanye as much as Kanye loves Kanye.
Khloé Kardashian also posted on her app in honor of her brother-in-law.
She said,
Happy birthday to THE Kanye West! I'm so happy that you're a part of our family. Thank you for being such a good hubby to Kim and an amazing father.
And the internet, Kanye's former love, of course came out in droves to wish Yeezus a happy 40th birthday.
And now I'll leave you with some of Kanye West's greatest quotes of all time:
"My greatest pain in life is that I will never be able to see myself perform live." Honestly, same.
"I feel like I'm too busy writing history to read it." Also same.
"I am a god." Are me and Kanye West the same person... ?
HBD, Yeezus. As all of my high school yearbooks say: U rock, don't ever change.