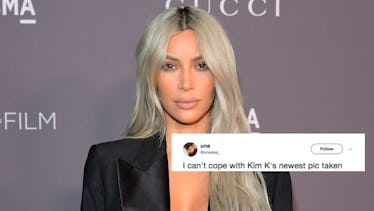 Fans Are Pissed At Kim Kardashian Over This Topless Pic She Put On Instagram
Charley Gallay/Getty Images Entertainment/Getty Images
Kim Kardashian is known for taking some racy pics that flaunt her curves, which we love. Shake what Kris Jenner gave ya, Kim! But fans think she took things a little too far with her most recent Instagram photo, which shows Kim without a top on and her back facing the camera. Normally, that's just a classic Kim K ~lewk~ and let's be honest, she always slays. But it's the photographer of this most recent Insta pic that has fans doing a double take. That's because Kim Kardashian's topless pic was taken by North West and Twitter has a LOT of feelings about it.
The photo shows a close-up of Kim's famous backside in some kind of leggings, with her wavy hair flowing down her back. You can see that she *technically* has a bra on, but it's unstrapped and it looks like it probably won't stay on for much longer. You also see an adorably pint-sized North in the frame, blurred out by the flashing of the camera. On her caption, Kim wrote, "📸 by North," just in case people didn't notice a tiny human in the frame taking the photo.
Here's the photo in question, for reference:
Not gunna lie, it's actually a pretty damn good picture. Perhaps North has a career in the arts in her future?
Regardless of the quality of the photo, fans on Twitter were unsure of how they felt about North taking a topless photo of Kim K:
Twitter keeps me ALIVE, y'all.
This isn't the first time that North has helped Kim's Insta game either. Back in 2015, Kim K said that North accidentally posted a decade-old photo to her Instagram account, which featured a very bronze Kim in a very skimpy bikini looking like some kind of exotic goddess. Apparently, Kim deleted the post that North accidentally uploaded, then RE-uploaded it to her account shortly after. In her caption, Kim wrote,
North posted this while playing games on my phone. Not sure why or how she chose it but I'm not complaining! LOL I deleted it so now reposting it myself! #FBF from 10 years ago.
How convenient that North decided to choose a really, really, ridiculously good-looking pic of Kim, and not some accidental selfie.
Say what you want about the most recent photo that North took, but it's clear to see that Kardashian-West absolutely adores her oldest daughter. At the end of 2017, Kim posted her Best Nine (which is a website that displays your most popular Instagram photos of the year when you plug in your username), and North was featured in almost every single photo, proving that she's just as cute a model as she is a photographer.
Kardashian also opened up to Editorialist in 2016, candidly describing what she hopes is in store for her daughter's future:
When North was born, I used to pray, 'Can she handle this life?' Because it's a lot to come into, a family that has the spotlight on them, and it's very public. But I really believe people come into our lives, and they choose us, and she knows what her life is going to be.
Kim also stressed the importance of being there for her daughter as much as possible:
I value my relationship with her so much. I want to become best friends with her to the [point that] she can ask me anything. My hope for her is that she is just really kind to people and grows up as normal as possible within all of the chaos.
I mean, BFFs totally have photo shoots together, right?
Whether you agree or disagree with Kardashian's most recent Insta pic, you can't say that she's not a doting mom. And you definitely can't say that she's not the queen of taking selfies.
You do you, Kim.