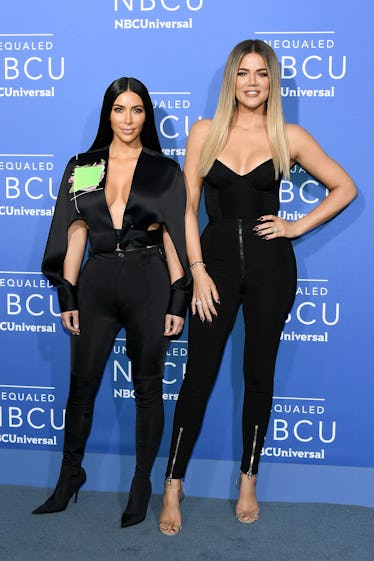 Kim Kardashian Surprised A Fan On 'Revenge Body' With Khloe K & It Was So, So Sweet
Dia Dipasupil/Getty Images Entertainment/Getty Images
I have always wanted a sister. It just seems like such an amazing thing to have a built-in bestie who always has your back, and who keeps it real with you 24/7, even when you don't always want them to. It's part of the reason I'm so obsessed with the Kardashian family. And when Kim K surprised a fan on Revenge Body with Khloé Kardashian, she proved that she has the hugest heart and is #SisterGoals big time!
Jan. 7 wasn't just a big night in Tinseltown because of the 75th Annual Golden Globes, it was also the premiere of the second season of one of my fave shows ever — Revenge Body With Khloé Kardashian on E!. In each episode, the reality star — who transformed her own body after her super public breakup with ex-husband, Lamar Odom — helps two of her fans makeover their bodies (and hopefully their lives) with intense workouts, healthy diets, and a visit from her own personal glam squad.
Like, where can I sign up?
Anyway, in this installment, one of the candidates was a man named Ken, who had been faking a glam life online as a fashion blogger, when really, he was hurting inside big time.
I'll give you more details on that in a sec. But first let me explain what happened with Kim. See, as part of the whole makeover experience, Ken was told he was going to meet a blogging expert, and you'll never guess who it turned out to be. Or actually, you totally will, because I spoiled it in the title. At this point in the episode, we all still had no idea, so just go with it.
"All I know is I'm meeting a blogging expert today and I have no idea who it is," Ken explained on the show. "I walked in and I turned the corner and I literally saw God. God just walked in the building."
TBH, I worship more at the temple of Khloé than Kim, but if this guy wants to hold up Keeks as his own personal goddess, then who am I to spoil it for him? I mean, he was so happily freaked out at the prospect of meeting Kim that after he screamed at the sight of her, he actually had to take a moment to run around the room before he could finally approach her with a big hug.
The whole thing was just so damn cute, although I did kind of think Ken might pass out there for a minute!
Anyway, when they finally sat down to chat, Ken explained to Kim and her fellow (food) god Jonathan Cheban — because when does Kim ever go anywhere without Jonathan Cheban? — how he used his fake online profile to hide the pain he suffered from losing both his mom and his dad when he was younger.
Kim then advised Ken to reveal that pain instead and use it in his art to express what he's feeling. "Why don't you just flip it and use that energy of what you've been through to show your moods, to show your personality," she suggested.
"That's the one thing that Khloé taught me, too," Ken responded. "Be authentic. And that's something I have struggled with my whole entire life because I never felt I was enough for anything."
BRB, just gotta go grab some tissues.
Seriously, though, Kim and Khloé were giving me major Oprah vibes throughout this entire episode. The way these two sisters opened up their hearts and came together to help a struggling soul was truly inspiring.
Good luck, Ken... I know we are going to see big things from you! And keep up the amazing work, dolls!