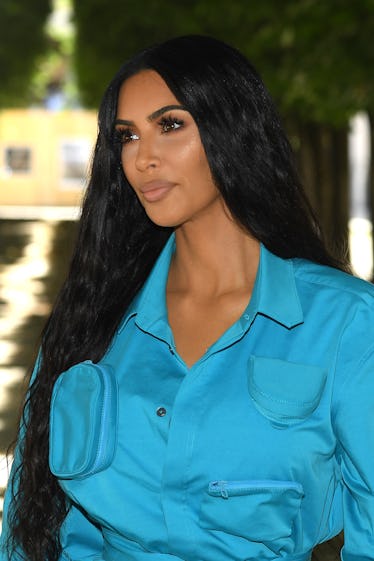 Kim K Just Responded To Those Baby Rumors In The Most Teasy Way
Pascal Le Segretain/Getty Images Entertainment/Getty Images
Oh, baby. Maybe you've heard the rumor that Kim Kardashian and Kanye West are already thinking about having a fourth child just seven months after the arrival of the third baby, Chicago. Media outlets started posting information claiming they have one male embryo left for surrogacy and they're planning on using it. E! News recently caught up with the KKW Beauty mogul, and Kim Kardashian's response to baby rumors doesn't exactly shut them down, which gives fans just enough hope to spiral into full-on hysteria. Elite Daily previously reached out to Kim and Kanye's teams for comment on having another baby but did not hear back by the time of publication.
US Weekly reported multiple sources told them about Kardashian and West's "last embryo," claiming they were considering another gestational carrier, just like how they delivered Chicago. Kim Kardashian thoughtfully penned the difference between a traditional surrogate and a gestational carrier before Chicago was born. She explained on her app,
A gestational carrier is actually the technical term for a woman who carries a baby that she has no biological relationship to. A traditional surrogate donates her egg, is artificially inseminated with the father's sperm and then carries the baby to term. Since we implanted my fertilized egg in our gestational carrier, our baby is biologically mine and Kanye's.
Based on US Weekly's sources, this would be the plan for their fourth child, too.
E! News caught up with a sunglass-wearing Kim to talk over her exercise and diet routine and what's up with the baby rumors. Maybe it was just the sunglasses that made it so hard to get a read on her, but her response is definitely indirect. She said,
I don't know, I don't know, I read that, I read something... none of that was true. But I've been really open about it and talked about it on our show, so... I don't know. We start filming Season 16 next week, so if I think about it more and it's gonna happen, you'll definitely see it on the show. But as of now, no.
K... reading between the lines it sounds like she's saying, "Right now it's technically a 'no,' but really I don't want to tell you what I'm thinking because I want you to have to watch my show to find out." Which, to be fair, is a great marketing plan.
You can fast forward to the 1:20 time stamp to hear her answer or watch the whole thing for details on her workout regime and favorite ice cream flavors. Up to you.
Prior to the new baby rumor, Kardashian told Elle magazine she feels she would max out at four kids. "I don't think I could handle more than that," she said. "My time is spread really thin. And I think it's important that in all couples, the mom gives the husband as much attention as the kids."
Nothing bothers me more than an unsolved mystery, but it sounds like the only way to get to the bottom of this rumor is to tune in to season 16 of Keeping Up With The Kardashians, whenever that airs.
They're so sneaky like that, aren't they?