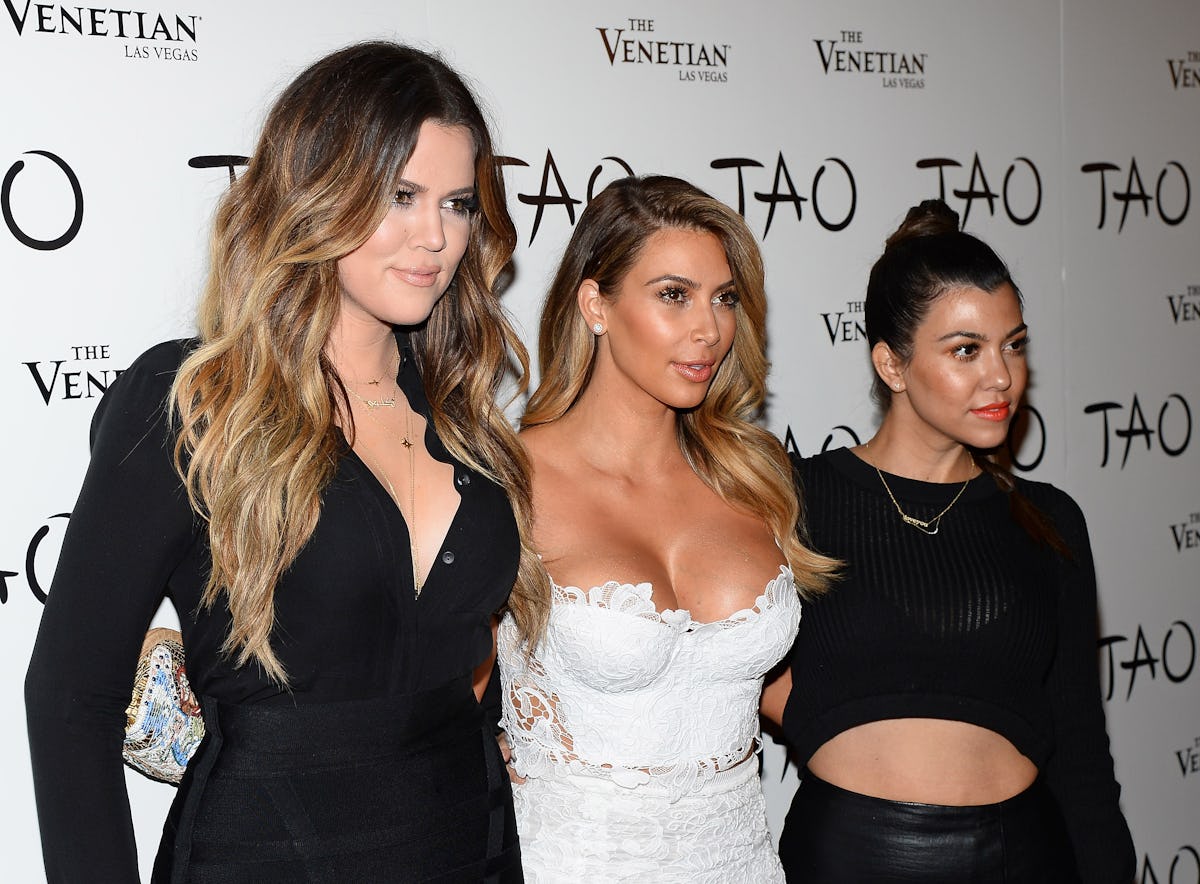 Kim K Got Real About What She Doesn't Like About Her Sisters & It's Kinda Harsh
Ethan Miller/Getty Images Entertainment/Getty Images
If you've watched a single minute of Keeping Up With The Kardashians during your lifetime, you know these sisters get real with each other. Honesty is the best policy in the Kardashian-Jenner house, but sometimes the truth hurts. Kim Kardashian recently got so, so honest about what she loves (and doesn't love) about her siblings during a recent interview with Vogue India. Kim Kardashian's quotes about her family are borderline harsh.
Kimmy K graced the March cover of Vogue India looking gorgeous with her platinum blonde hair and a fiery red dress. She gave a very revealing interview about her family, and some of her opinions may have been a little too honest. The only person who was safe was Kris Jenner, kween of the household and ultimate momager. First, Kim started by describing what she admired most about each of her siblings and Kris. She told Vogue,
My brother's sense of humor. Kendall's sweetness. Khloé's I-don't-give-a-f--k attitude. Kourtney's savviness around finances. Kylie's ability to just go for it and not care what other people's opinions are. And my mom's nurturing.
There are a few revelations I didn't know about. All the Kardashian-Jenners make more money than I will ever see in two lifetimes, but it turns out Kourtney is the money guru of the family, according to Kim. You go, Kourt.
Most of what Kim had to say wasn't super surprising. We all have seen Khloé and Kylie's DGAF attitudes, and equally love them for it. However, Kim didn't stop there when it came to her family. While she said Kris is "perfect," she did have a few things she would change about her sibs.
She continued,
Maybe… Kourtney's stubbornness. And Khloé's getting too sensitive. I would take away Kendall's anxiety, Kylie's 'I don't care, I know what I'm doing' thing and probably my brother's moodiness.
I'm not just saying this because I love Khloé to my core, but GIVE KOKO A BREAK. SHE'S EIGHT MONTHS PREGNANT AND ALLOWED TO BE SENSITIVE. Whew, I feel better. I'm not sure if Kourtney, Kendall, Kylie, and Rob will be reading this particular Vogue article, but I'm interested to know their reaction. However, Kim wouldn't say anything during an interview that she wouldn't say directly to one of her sibling's faces — so I'm sure the fam is all good.
Kim did keep her husband and kids out of the interview. Since North, Saint, and Chicago seem completely perfect, I'm sure she wouldn't have anything negative to say anyways. When it comes to her hubby Kanye West, Kim usually spends most of her time gushing over him.
She's given a few details about their courtship and how they got together, and they are seriously the cutest. Kim opened up to Glamour about the moment she knew Kanye was "the one," and it's actually really simple. She said,
I sleep with the heat on ... 80 degrees and socks and a robe, every single night. The first night I slept at Kanye's house … I won't say the date because I'll get in trouble, but years and years ago, he slept with the heat on and socks, and I was like, 'OMG, I met my soul mate.'
First of all, what kind of person sleeps in a room that hot? How does Kim not overheat in the night? KIM, HOW LONG HAVE YOU BEEN LIVING LIKE THIS? The two really seem to connect, and it looks like Kim makes Kanye just as happy. She recently shared a photo on Jan. 22 of Kanye grinning ear-to-ear (bigger than any fan has ever seen) on a private jet thanks to a surprise trip to Japan Kim planned. The caption to the photo read,
Throwback to that time I surprised Kanye with a trip to Japan for his birthday! He had to guess where we were going based on the snacks and magazines I had the plane stocked with! He was happy!
Even though Kim's siblings may get on her nerves sometimes, she seems so, so happy and surrounded by love. Keep dropping truth bombs, Kim.
Check out the entire Gen Why series and other videos on Facebook and the Bustle app across Apple TV, Roku, and Amazon Fire TV.