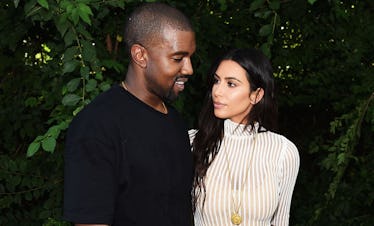 Kim K Posted The Sweetest Throwback Of Kanye West & His Smile Is Just So Pure
Kanye West has a very, uh, specific way of posing for photos. By that, I mean homeboy mostly stands straight and tall with zero expression on his face whatsoever. It's a move he makes in just about every photo he takes, and it's rare to see Yeezy smiling as a result. But we've all seen those rare videos where he'll catch himself smiling/laughing, remember the camera is there, then wipe the smile right off his face. It's classic Kanye. But this photo of Kanye West smiling on his Japan trip with Kim Kardashian is the most pure thing I've ever seen in my entire goddamn life. Publicly happy Kanye is a rare Kanye and this photo is a gift!!
Kardashian posted the photo on her Twitter and Instagram on Thursday, Feb. 22, for #ThrowbackThursday. In it, West is beaming amid a bunch of Japanese snacks that were taken onto their private plane set for Japan. The trip was a surprise birthday present for West planned by Kardashian in 2017. She said in the tweet, "Throwback to that time I surprised Kanye with a trip to Japan for his birthday! He had to guess where we were going based on the snacks and magazines I had the plane stocked with! He was happy!"
Happy Kanye is the best Kanye! LOOK AT THAT GRIN. Have you ever seen anything so pure?! The answer is no!
Fans on Twitter are loving this pic as much as I am (and that's clearly a lot).
Kim Kardashian and Kanye West's Japan trip was apparently a dream come true for the couple. They went for West's 40th birthday last June. In an appearance on The View following the trip, Kardashian said they had an amazing time and were even able to avoid swarms of fans at points. "We would put on hoodies, we took the train," she said. "No one bothered us." Just like seeing Kanye West smile, I imagine it's v rare for Kimye to go out in public without fans flocking to them, so that must've been a nice change to be able to have an inconspicuous experience on public transportation.
She also said while on The View that West finds a lot of inspiration in Japan. "I surprised him with a trip to Japan, a place that he loves to go to get away and get inspiration," she told the hosts of The View. She added, "It was great for me because I've never been and we had always talked about how we really wanted to go together." Hey now, hey nowwwww! This is what dreammsssss are made of! Clearly, the trip was a success because it got West to smile so much. But the couple's best couple friends, Chrissy Teigen and John Legend, still struggle (in a hilarious way) to take photos with Kimye. All four of them attended Ellen DeGeneres' birthday party recently, and Teigen posted a series of photos on Instagram in honor of the host's 60th birthday.
Teigen posted this photo of her, John Legend, Kim Kardashian, and Kanye West at Ellen DeGeneres' birthday party on Feb. 11.
She captioned the post, "Happy birthday, @theellenshow! Here is me, John, Kim and Kanye!!!" Kardashian and West, expert posers, are so photo ready in this. Teigen is as well (and John just looks so excited), but Teigen told DeGeneres in an appearance on her show on Feb. 19 that she never knows how to take a pic with Kimye.
"It's so hard to pose with them," she said. "I don't know what to do. I get too mean-faced. And John is just happy to be alive!" Oh, John. Oh, Chrissy. Oh, Kimye. This photo is just wonderful. Let's all bask in the glory that is Kim K's throwback photo of Kanye West smiling. (Just don't tell Kanye she posted it... we might not ever see his smile again.)