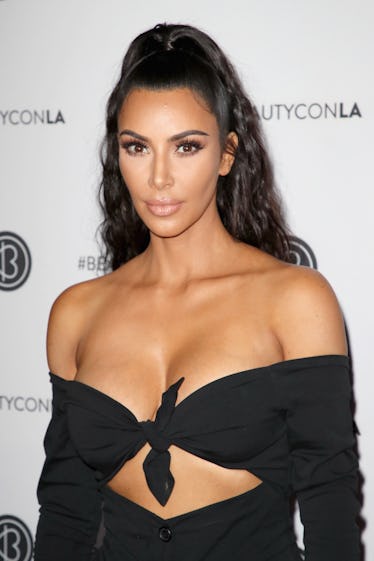 Kim K Just Shared A New Photo Of Saint & Chicago That Is Probably The Cutest Thing Ever
David Livingston/Getty Images Entertainment/Getty Images
I'm a sucker when it comes to baby pics. Especially when those babies happen to belong to one of the Kardashians. And there are lots of babies in this fam right now, you guys! But TBH, I'm totally partial to Kim and Kanye's kiddos because I just think these two make the cutest babes on the planet. And the best part is that Kimye seems to have zero qualms about posting all their sweet little faces on social media, so we pretty much get to see them all the time. But Kim Kardashian's new photo of Saint and Chicago has left me speechless because it's adorable AF and probably the most heart-warming thing you'll see all day.
Keeks took to Instagram on Sept. 26 to share a pic of her 2-year-old son, Saint, sitting on the kitchen floor with his little sister, 8-month-old Chicago. She captioned the shot "morning cuties," and that's exactly what they are. Saint — who looks like a mini Kanye here, BTW — is rocking a Harley Davidson tee, a band-aid on his knee, and a huge smile on his face, while Chicago looks like a Kim clone and legit doll in her dark curls and frilly, floral onesie.
Seriously, does it get any cuter?
Of course, this isn't the first time Kim has shown off the love between the sibs. On Sept. 3, she shared an image of Saint on Insta that featured him sitting in his highchair with Chicago propped up on his shoulders.
"Wild Hair Don't Care," the Keeping Up With The Kardashians star wrote in the caption. "Don't worry I'm holding her up from the back."
Leave it to Kim to take a pre-emptive strike at her haters, right? And while Kimye's oldest daughter North isn't featured in either of the brother-sister shots, the reality star told ET back in April that North is totally down with her new baby sis.
"I'm so shocked that North is so nice and she's still... it's her world and she's the sweetest, but it's more like she and Saint have a thing," Kim explained. "She's very warm with her sister."
In fact, Saint was actually the one Kim was nervous about. "I was more worried about him, that he would be more jealous, [like] how North was with Saint," she explained. "But he's so good with her. Every day he has to give kisses and hugs."
I honestly love the way Kim is raising her kids to be so close with each other from such a young age. Though, I really wouldn't expect anything less, given the amazing bonds she shares with her own sisters Kourtney, Khloe, Kendall, and Kylie.
Speaking of which, I am also obsessed with Chicago's tight relationships with her cousins, Khloé's daughter, True, and Kylie's daughter, Stormi. I mean, check out this pic of the awesome threesome that Kim posted on Sept. 13:
So beautiful. Say what you will about the Kardashians, but you just gotta love how much love they all have for each other, you know?