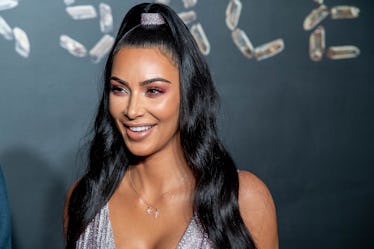 Kim K Got Real About What Psoriasis Can Look Like With A Makeup-Free Selfie On Her Insta
Roy Rochlin/Getty Images Entertainment/Getty Images
Real talk, no one is as famous (or as highly criticized) for feigning perfection on social media as the Kardashians. Whether it's behind-the-scenes fittings with major designers, picturesque playdates amongst their gorgeous children, or impeccable selfies and mirror pics of the girls looking stunning, the family always makes sure their Instagram game is on point. That said, there have been a few instances in which they've given us a look into the less-edited aspects of their lives, and Kim Kardashian's makeup-free psoriasis selfie posted this week is a perfect example. Kardashian has been vocal about her struggles with the skin condition in the past, and despite her preference to always put her best foot (and face) forwards, she isn't afraid to get real and relatable when it comes to raising awareness about this fairly common skin issue.
To be clear, "relatable" is not typically a word I'd use to describe Kim or any other member of her family, but when I first heard she experienced psoriasis symptoms, I suddenly felt like she was less celebrity, more real person, if you know what I mean. People only have flawless, airbrushed skin online, and even though Kardashian's pics looked perfect, her acknowledgement that things weren't always as they seemed on Instagram was weirdly comforting, and broke the spell of "celebrity perfection" followers like myself sometimes end up falling for.
"Psoriasis face," Kardashian captioned a short selfie-style video on her Instagram Story and Snapchat Story:
The video itself appears to be filtered or otherwise blurry, but a few blotchy red areas are visible on Kardashian's face:
Kardashian usually makes sure her selfies are snatched to the max, so even though the splotchiness might not seem major to some, I assume it takes a lot for her to be open about it, and I respect that:
Going bare-faced in front of 130 million Instagram followers is no joke, people, and even though Kardashian didn't elaborate much or go into detail this time, just acknowledging that she, too, struggles with this skin condition is comforting to many others who experience psoriasis symptoms.
In fact, Twitter users shared that seeing the post made them feel less alone:
And while haters shade her for being dramatic, many who experience psoriasis came to Kardashian's aid with advice on how they handle their own flare-ups:
Her video on Instagram and Snapchat isn't the first time she's acknowledged her skin condition, though. Kardashian has been vocal about psoriasis since 2016, when she opened up about it on her app and even showed some affected areas on episodes of Keeping Up With The Kardashians.
Kardashian has experienced flare-ups from head to toe, literally:
Since then, she's used her Stories on social media to give us more real-life looks at her experience:
Kardashian is a beauty icon to many, and her willingness to open up about skin conditions is beneficial to so many dealing with psoriasis themselves, which I seriously love. No one out there is perfect, people, celebrity or not! That said, having less-than-flawless skin doesn't make you any less beautiful — it only makes you human. Cheers to Kim for embracing the skin she's in and sharing it with her audience.