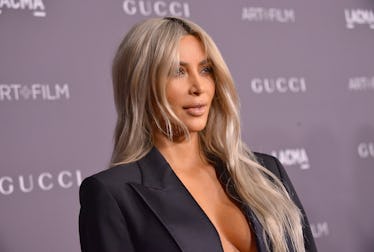 Kim Kardashian Shared A New Video Of Chicago, So Get Ready For Cuteness Overload
Charley Gallay/Getty Images Entertainment/Getty Images
Celebrities are cool and all but it's the mini celebs (aka their children) we really care about, right? Well, then I have some good news folks, there's new footage of Chicago West to get you through the day. And let me tell you, Kim Kardashian's latest video of Chicago is pure cuteness overload. It's actually so darn adorable, that it might just get you through the week.
Kardashian snapped a new video of Chicago on Sunday, April 15. In the video, baby Chicago is just laying on a blanket being a giggling baby while mama Kardashian is heard in the background saying, "Say hi. Hi cutie." Spoiler alert: 12-week-old Chicago does not say hi. She does, however, give an adorable little smirk, and so I guess we should all forgive her (we will take a raincheck on video in which she actually says something, you know, once she learns to speak).
TBH, Chicago is definitely ready for those Gerber ads. Wait, do Gerber ads still exist? Those babies were always super adorable, but I guess for a Kardashian/West baby we should go for something a little more Ralph Lauren or Gucci. A Gucci baby ad sounds pretty damn fierce, actually.
Here, just see all the cuteness for yourself (peep that little smile):
Kardashian and Kanye West welcomed their third child, Chicago, on January 15, 2018. After the birth, Kardashian took to her app and shared a heartfelt message about why she chose to use a surrogate. After Kardashian experienced health problems during her pregnancies that put her and her first two children, North and Saint, at risk, she decided to use a surrogate. She wrote,
I have always been really honest about my struggles with pregnancy. Preeclampsia and placenta accreta are high-risk conditions, so when I wanted to have a third baby, doctors said that it wasn't safe for my—or the baby's—health to carry on my own.
The Keeping Up with the Kardashians star also opened up about how it feels to go through the surrogacy process. She shared that though it seems like the easier option, physically, it actually took an emotional toll on her.
Having a gestational carrier is definitely different, but anyone who says or thinks it's the easy way out is completely wrong. People assume it's better because you don't have to deal with the physical changes, pain or complications with delivery, but for me it was so hard to not carry my own child, especially after I carried North and Saint.
Childbirth, though very rewarding (so I hear and assume, I am not a mom), definitely looks pretty terrifying and physically taxing. But even so, I can't imagine how difficult it must be to come to the realization that you just can't carry your child, after carrying your first two. It's probably something that most people don't think about.
But it all turned out okay, and now Kardashian and West have a beautiful baby girl. And Kardashian said that the connection to Chicago came instantly. She wrote,
The connection with our baby came instantly and it's as if she was with us the whole time. Having a gestational carrier was so special for us and she made our dreams of expanding our family come true. We are so excited to finally welcome home our baby girl.
After two pretty tough pregnancies and the ups and downs of going through the process of surrogacy, I'm happy to hear that the whole family is doing well. Most importantly, that they are sharing adorable pictures and videos with us along the way. Chicago is turning out to be quite the cutie and I can't wait for more!