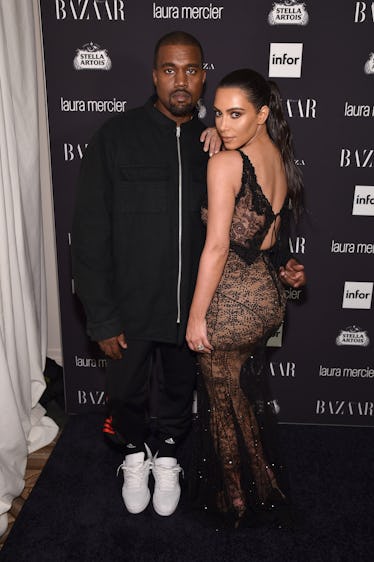 Kim K Just Left The Most Scandalous Flirty Comment On Kanye West's Instagram Post
Bryan Bedder/Getty Images Entertainment/Getty Images
Remember 2016? It was the year Beyoncé made Lemonade and Netflix gave us Stranger Things. 2016 was also the year of the #GreySweatPantsChallenge. You remember it, don't you? The viral contest was basically a way for guys to show off their junk on social media via their grey sweatpants. And Kanye West either didn't know about it or he forgot, because he went and posted an innocent pic of his leg encased in a pair of grey sweatpants on Sept. 25, and it was hella boring until his wife rolled up. Kim Kardashian's comment on Kanye West's Instagram proves that she's not afraid to get flirty, and the internet is loving it!
OK so here's what happened: First, West shared a pic on Insta of his left leg swathed in grey sweats and punctuated with a black Yeezy. I'm assuming these are the same pair of NASA sweats that he has legit been wearing for like a month now, because there's a rocket emoji in his caption, along with an icon of the earth and an alien head. He also added a bunch of other emojis, like a purple heart and red apple, and then tacked on a single word: "Level."
Was he trying to show off his Yeezys? Or let us know that his wife is totally down with him putting his feet up on what is probably a million dollar couch? Maybe. But Kardashian was definitely feeling more of a sexy vibe from the shot, and she turned up in the comment section to add a little heat.
"Grey sweatpants challenge?" she wrote. "Lemme see."
So freaking flirty, Keeks! And lucky for us, the @commentsbycelebs Instagram account 1) exists, and 2) posted a screenshot the suggestive exchange in all of it's raunchy glory:
YAS Kimmy — gauntlet thrown! I mean, way to bring sexy — and the whole grey sweatpants thing — back. But will your man be up for the challenge?
So far, there's been no response from West to Kardashian's bawdy banter, but I am definitely over here waiting for it because these two have a habit of letting their relationship play out on social media for the whole world to see. Remember the sweet tribute Kim Kardashian posted for her husband's 41st birthday back in June? And that time she trolled him over on Twitter after he posted pics of their mansion? I love the whole flirty vibe they have going on, so I really hope Kanye (and John Hamm, for that matter) show up with some type of comeback pic soon.
In the meantime, Kardashian's comment has been such a hit on its own, that it's currently racked up more than 14,000 likes and 700 comments, ranging from "MOOD!!! I wanna see too," and "Wow. I think this is the epitome of relationship goals," to "Kim calm down there are children here."
Twitter is totally here for Kim's provocative dare, too:
BAHAHAHA #WESTPANTS. C'mon, men... Let's make it happen!