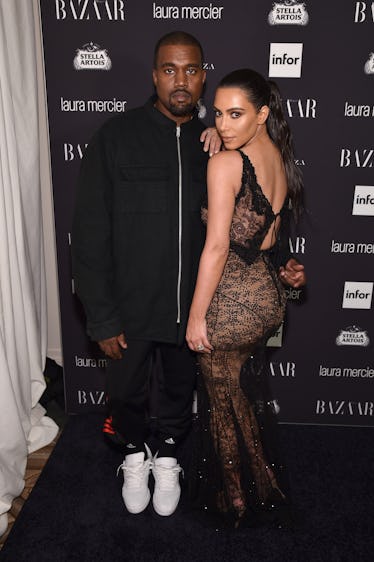 Kanye West Just Posted The Sweetest Video Gushing Over Kim Kardashian's Beauty
Bryan Bedder/Getty Images Entertainment/Getty Images
To some people outside the Kardashian-Jenner clan, the union between Kim Kardashian and Kanye West may not make much sense. Kardashian is a California girl through and through, while West is a rapper with a bit of an edge. But by all accounts, their marriage is going super strong and nothing proves that more than Kanye West's video of Kim Kardashian, which was posted to his Instagram recently.
The video, which was posted on Thursday, Sept. 20, shows West in the studio with Kardashian, Chance the Rapper, and some other folks. West is recording with his phone and basically giving his followers a glimpse into what life is like behind the scenes. There's music playing in the background and everyone is kind of bobbing their heads along to it. But when West pans over to Kardashian, who is sitting next to him, she gets super shy and covers her face. The two share a sweet and playful moment that leaves a bashful Kardashian with a huge smile on her face. You can hear West chuckling as well.
West sweetly captioned the video with, "my love is so beautiful 😍," proving that he still regards his wife with as much love and affection as when they first met.
Here's the video West posted to his Instagram:
The video comes just a day after reports surfaced that Kardashian was not on board to make a permanent move to Chicago with West. West, who recently announced to a crowd that he was moving to the Windy City, apparently has plans to make Chicago his new home base.
At an event on Monday, Sept. 17, West told an audience that he had plans to make the move. In a video obtained by TMZ, West can be seen making the announcement. "I gotta let y'all know that I'm moving back to Chicago and I'm never leaving again," West said in the video.
Then, in a Sept. 19 report from People, a source close to the situation explained that Kardashian had no plans to make the move to Chicago a permanent one.
"Kim plans on spending more time in Chicago, but she isn't moving there full-time," the source said.
Kardashian's reason for not wanting to move to Chicago is all about her kids. Apparently, she has concerns about how it'll affect them and wants to give them a stable upbringing.
"She thinks it's best for the kids to continue their schedule in LA. North is in school and everything is working great," the source said. "Kim doesn't think a permanent move to Chicago benefits the kids. Also, Kim wants to be around her family as much as possible too. She loves their new house and it finally feels like a home to her."
Despite the fact that Kardashian isn't really interested in making Chicago her permanent home, she's still supportive of West's decision to go ahead with his plans. At least, according to People's source.
"She will be supportive of Kanye's plans and they do have a house in Chicago too. Kanye has a tendency though to change his mind quickly, so she is just going along with his plans because it makes him happy," the source said.
Their differences aside, though, it really looks like Kardashian and West have a genuine and sweet relationship. I highly doubt the move to Chicago will break them at this point.