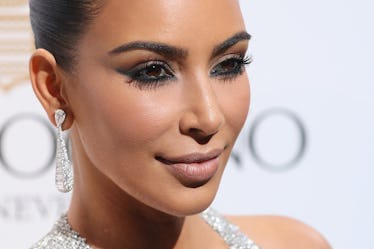 Kim Kardashian & Alice Johnson Met For The First Time & I'm Not Crying You Are
Andreas Rentz/Getty Images Entertainment/Getty Images
Think you're already all cried-out over the news surrounding Alice Marie Johnson's release from prison? Well, you'd better think again, because Kim Kardashian and Alice Johnson met for the first time and the clip of their exchange is filled with emotions. Before we get into it, go ahead and grab a tissue (or two — OK, ten). You'll thank me later.
Although Kardashian and Johnson had previously spoken with each other over the phone, they finally met in Memphis on June 13 for an interview with NBC's Today host Hoda Kotb, following Johnson's release from an Alabama prison on June 6. In a clip of the sit-down between Kardashian and Johnson shared on Today's Twitter page, set to air on June 14, the two are first shown hugging and expressing their admiration for one another. Johnson is heard saying, "I love this lady." But it's honestly Kim's comment that's gonna have you guys crying buckets of tears.
When sharing some thoughts about her new friend, Kardashian said, "It's just like, I mean, I already knew just by talking to you on the phone and just by seeing you in videos, but I mean you are everything and more than I ever thought."
Johnson then covers her heart, because yes: the comment was really that moving.
Ugh! I said I wasn't gonna ruin my mascara any more.
It's taken such a long time for Johnson to get to where she is now, which makes this moment even more special. She was granted clemency by President Donald Trump and released from prison on June 6 after spending more than 21 years of a life sentence in prison. A statement from the White House regarding Johnson's release read, per CNN: "Ms. Johnson has accepted responsibility for her past behavior and has been a model prisoner over the past two decades. Despite receiving a life sentence, Alice worked hard to rehabilitate herself in prison, and act as a mentor to her fellow inmates."
Kardashian was instrumental in Johnson's release, as she traveled to the White House on May 30 to personally discuss Johnson's case and prison reform with Trump. The following day, May 31, she sat down with Mic to share some insight on what went down in the meeting with Trump, saying he was attentive to her plea and that she was "hopeful" he would adhere to it.
"I think that he really spent the time to listen to our case that we were making for Alice," Kardashian told Mic. "He really understood, and I am very hopeful that this will turn out really positively."
She continued: "I just really strongly believe that she is someone that has completely rehabilitated herself and will continue to do so outside of prison. You know, she's done her time."
Kardashian first caught wind of Johnson's case in 2017 after a video produced by Mic surfaced on social media. In the video, Johnson explained she'd been in jail since 1996, sentenced to life without parole for a nonviolent drug offense.
In the video, Johnson says:
I had been in management for 10 years. When I lost my job I struggled financially. I couldn't find a job fast enough to take care of my family. I felt like a failure. And out of desperation I made one of the worst decisions of my life to make some quick money. I became involved in a drug conspiracy.
Johnson had also explained her situation and acknowledged her mistakes in an article penned for CNN in 2016. She wrote:
I want this part to be clear: I acknowledge that I have done wrong. I made the biggest mistake of my life to make ends meet and got involved with people selling drugs. This was a road I never dreamed of venturing down. I became what is called a telephone mule, passing messages between the distributors and sellers. I participated in a drug conspiracy and I was wrong.
Bravo, Kim. You've changed a life, and the overwhelming emotion of this meeting is the proof. You using your influence in this way is truly amazing, and I hope we all get to see more of it in future.