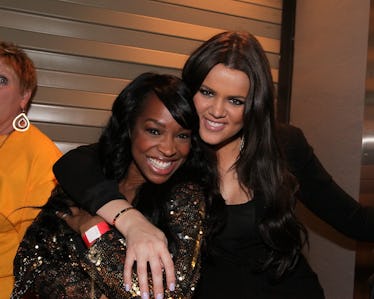 Khloé Kardashian's Besties Showed Their Love For the Mom-To-Be With The Sweetest Gift
Noel Vasquez/Getty Images Entertainment/Getty Images
While my many attempts to keep up with the Kardashians generally prove to be futile, there are a few things of which I'm sure when it comes to this famous family. One of those truths is that Khloé Kardashian has some ride-or-dies when it comes to best friends. They've probably known about the pregnancy for awhile now, but Khloé recently showed off the sweetest gift from them that shows just how excited they are. After seeing the photos, you'll likely agree that Khloé's "Mommy" bracelet from Malika and Khadijah Haqq is the perfect gift for the mom-to-be.
After months of pregnancy rumors swirling about, Khloé finally put all the questions to rest when she announced her pregnancy on Dec. 20. On Wednesday, Khloé posted the exciting news that she is, in fact, expecting her first child with Tristan Thompson. Now, fans can join the mom-to-be on her journey as a first-time mother.
Fans aren't the only ones anxiously awaiting her little arrival, though. Malika and Khadijah Haqq, Khloé's good friends who regularly appear on Keeping Up With The Kardashians, gifted the famous expectant mother with a gorgeous bracelet complete with Khloé's newest moniker, "Mommy." Khloé shared a video on Snapchat showcasing her new bling from her besties, and she seemed to be very touched by the thoughtful gift.
The mom-to-be is already being showered with presents.
Khloé captioned her Snap with, "Malika and Khadijah got me the most special gift." Her post was completed with a few heart-eyed emojis and one pregnant woman emoji (of course!). Now, Khloé didn't go into a description of the bracelet, but from the photo it appears to be a beautiful and delicate rose gold chain with "Mommy" written out in the middle. Even though Khloé has a flashy filter on the her wrist, it looks like the bracelet has a little sparkle, too. Honestly, it is the perfect addition to this fashionable expectant mother's accessory collection.
But what else would you expect from the twin sisters who happen to be besties with the Revenge Body host? Malika and Khadija have been close with Khloé since they were 15 years old, according to Globalgrind. So it's really no surprise that they decided to mark their friend's milestone with a meaningful piece of jewelry.
From the looks of the rest of Khloé's social media posts, this appears to be just the beginning when it comes to showering this deserving mom-to-be.
Khloé shared a video of this golden flower arrangement.
She shared a Snap of these this gorgeous bouquet of white and gold roses, with the metallic flowers arranged to spell out "BABY" — quite a fitting centerpiece for the chic mom-to-be.
The gifting didn't end there, though. Family friend, Jonathon Cheban (known as @foodgod on Instagram), sent Khloé a gift for when her pregnancy cravings really start to kick in. She didn't explain exactly what it was, but I was able to make out the word "pasta" — so she's set for when those carb cravings hit.
Khloé showed of this fancy AF pasta from Cheban.
Finally, since nine months is a long time to wait for the little bundle of joy, Khloé might need something with which to pass the time. Luckily, her friends thought of everything. Khloé shared a video of the gift she received that was the cutest puzzle ever created from images of Khloé and Tristan. If they make this a puzzle for sale to the public, I am most definitely buying it.
Here's a picture of the mom-and-dad to be on their very own puzzle.
Since Khloé no longer has occupy her time with worrying about when or how to announce her pregnancy, she can now enjoy this time before the big arrival. And thanks to her friends, she has plenty of pasta, puzzles, and jewelry to keep her occupied before she welcomes her first child.
Check out the entire Gen Why series and other videos on Facebook and the Bustle app across Apple TV, Roku, and Amazon Fire TV.