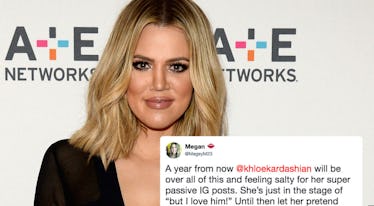 Khloé K Slammed Trolls Who Said She Was Too "Passive" About Those Cheating Rumors
Chris Weeks/Getty Images Entertainment/Getty Images
Hell hath no fury like a disgruntled Kardashian. It's no secret that Khloé Kardashian's life has been anything but calm these last few months — on top of her new baby girl, True Thompson, she's also been dealing with an enormous amount of drama surrounding True's father, Tristan Thompson, and the reported cheating scandal that surfaced back in April. Some fans have been there to support Kardashian no matter what, yet some are a bit quick to offer their opinions on the matter, when it's clear that Kardashian is not looking for suggestions in that area of her life. Some fans have been taking things a bit too far on Twitter, though, and Khloe Kardashian's response to trolls is pretty damn epic.
So here's what went down: On Wednesday, May 30, a Twitter user thought it would be a good idea to add her two cents about the entire ordeal that's going on between Kardashian and Thompson, calling Kardashian "passive" in her responses to Thompson's cheating allegations. She wrote,
A year from now @khloekardashian will be over all of this and feeling salty for her super passive IG posts. She's just in the stage of "but I love him!" Until then let her pretend he's changed and they'll be a happy family. #WednesdayWisdom
When you talk about celebs on Twitter, it is very rare for them to even see your comment, much less call you out on it. So I'm willing to bet that this user thought she could say whatever she wanted without the Keeping Up With The Kardashians star getting wind of her unsolicited thoughts and opinions.
But LOL, because not only did Kardashian see the tweet, but she had a pretty fantastic response. Kardashian wrote,
Babe that's not wisdom at all because you're assuming you know who I'm talking about and you're assuming you know my feelings. Assuming anything is anything but wisdom
Don't mess with KoKo, y'all.
We've been seeing Khloé Kardashian post a lot of cryptic quotes on social media lately, and many fans believe that it's all to do with her and Thompson's relationship. This is all happening after a report on April 10 claimed that Thompson allegedly cheated on Khloé with numerous women while she was pregnant with their daughter. Elite Daily reached out to Thompson and Kardashian's teams regarding the cheating reports but did not hear back by the time of publication.
These posts seem to be reflective and thoughtful, which are leading several fans to believe that she and Thompson are still together, but there have been some ~klues~ that suggest that, perhaps, all is not well in their relationship. The biggest of all came when Khloé gave an anniversary gift to Kim Kardashian and Kanye West on May 24 — a beautiful bouquet of roses.
Kim posted a video to her Instagram Story to show off the stunning floral arrangement, and showed off the card that read, "Happy anniversary, Kimye. Love always wins!! Love KoKo and True," with no signature whatsoever from Thompson.
While we don't know if he was left off the card intentionally or it was an unfortunate blunder, either way, it doesn't look that great for the couple. Elite Daily reached out to Kardashian's team about why Thompson was left off the card, but did not hear back by the time of publication.
And, while this all could just be more hearsay, a new report from People magazine states that Khloé Kardashian's relationship with Tristan Thompson has definitely changed since footage of the reported cheating scandal surfaced:
She has good days and bad days with Tristan. They had a very calm relationship before those videos and pictures were released. Now their relationship has changed.
Whatever is going on with Khloé, why don't we all just send love and support, instead of trying to chime in on how she should live her life. You do you, Khlo.