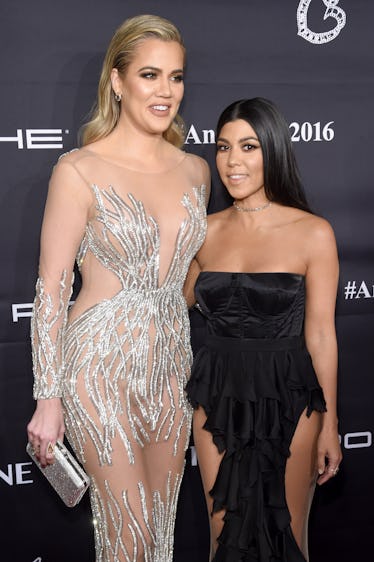 Kourtney K's Response To Khloé's Instagram About Negative Relationships Is Interesting
Jamie McCarthy/Getty Images Entertainment/Getty Images
In the latest installment of "Hey Khloé, u good?" True Thompson's mama has posted yet another cryptic Instagram story about self-improvement. And this time, Khloé Kardashian's quote about negative relationships prompted big sis Kourtney Kardashian to respond with words of support for her sister. The quote Khloé posted to her story was all about surrounding yourself with people who better you because "relationships should help you, not hurt you." Hmmmm, very cryptic indeed, Khloé. Who are you talking about here, girl? Tristan? Kim? Elite Daily reached out to Khloé's team for comment on who the post could be about, but did not hear back by the time of publication.
The quote Khloé posted started off with, "Free yourself from negative people. Spend time with nice people who are smart, driven and likeminded." Then came the most telling line. "Relationships should help you, not hurt you," it said. The remainder of the quote read,
Surround yourself with people who reflect the person you want to be. Choose friends who you are proud to know, people you admire, who love and respect you — people who make your day a little brighter simply by being in it. Life is too short to spend with people who suck the happiness out of you. When you free yourself from negative people, you free yourself to be YOU — and being YOU is the only way to truly live.
The quote is just one more addition to a long line of inspirational quotes she has posted over the last few months. Given that Khloé started posting these in the middle of the sh*t storm that was Tristan Thompson's cheating rumors scandal, it's not far off to think that these quotes could be about him.
Khloé posted the quote on Oct. 22.
And then, Kourtney posted it to her story and added a message of support for her sister.
"YES YES YES. This makes all the difference," she said. If you're looking at this thinking it's about Tristan Thompson, Kourtney's response makes it look like she's supportive of Khloé ending her relationship with him. But it could just be about Khloé cutting out negative friendships and have nothing to do with her romantic relationships. Kourtney has been setting boundaries for herself on the current season of Keeping Up With The Kardashians, showing her sisters what kind of treatment she will and won't tolerate in her life moving forward, so maybe Khloé is taking a page from her book with this quote. That would also easily explain Kourtney's reaction.
According to E! News, however, Kourtney is reportedly the only person in the family supporting Khloé's decision to stay with Thompson. Thompson has moved back to Cleveland now that the basketball season is heating up. Khloé and True were reportedly supposed to go with him, but she reportedly decided not to go because she wasn't ready to leave L.A. A source told E! News that Khloé's "still very much insecure" about being so far away from him right now and she's "struggling with trusting him to be on his own around other women when she isn't there." It only makes matters worse that her family reportedly doesn't want them to stay together. "Everyone in the family ultimately wants what's best for True, but they're wary that Tristan will cheat again, and they hate seeing how this is affecting Khloé," the source said, adding that Kourtney "has been the most open-minded about Khloé and Tristan reconciling." Elite Daily reached out previously to Kardashian and Thompson's teams for comment on the report, but did not hear back by the time of publication.
Kourtney has always been super supportive of Khloé, so whether or not Khloé decides to stay with Thompson, Kourtney will surely be there with some words of wisdom.