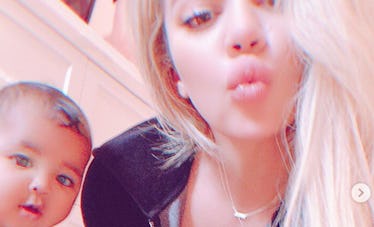 Khloé K Just Shared The Most Adorable Photos Of True In A Pumpkin Costume
Instagram/Khloé Kardashian
It's Halloween month and you know what that means! 'Tis the season for adorable little babies dressed up in hilarious costumes as inanimate objects, animals, or real/fictional people of note. I love it so much. As you and I both know, the Kardashians are the number one baby-making family of 2018 and they're also known for their fashion. If you're putting two and two together, it can only mean one thing: adorable Kardashian kids in killer Halloween kostumes. I mean, costumes. Khloé Kardashian's photos of True Thomson in a pumpkin costume are too adorable for words and just the start of the kinds if photos that are sure to come in the upcoming days leading up to Halloween. Hooray!
On Sunday, Oct. 14, Kardashian let fans peek into her family day with True hanging out in a pumpkin patch. While there were plenty of great pumpkin options surrounding the baby to take home and carve into a Jack-o-lantern, fans only had eyes for one. True. The 6-month-old angel baby was dressed up in a festive pumpkin costume that matched her surroundings perfectly. I don't know why a baby dressed up as a gourd is so damn cute, but it really, really is.
Khloé posted a few awesome photos on her Instagram story and her big sis Kourtney shared some, too. It turns out it was a family day at the pumpkin patch.
In Khloé's picture, True is giving us classic adorable baby face.
However, in Kourtney's picture, True is serving up Blue Steel.
Kind of amazing, right?
Just when I was worried the pumpkin patch pictures were coming to an end in Khloé's story, it got better. Khloé posted an adorable video blowing raspberries on True's perfect plump cheeks. The following morning on Monday, Oct. 15, she also shared a few classic morning selfies on her feed.
Khloé captioned the photos with lyrics to a song she's regularly videotaped herself singing to True: "🎶Good Morning To You! Good Morning To You!🎶"
True just turned six months old and has been slaying the photo game ever since her parents first started letting fans see her face. True loves a good laugh, a solid headband or hat moment, and sticking her tongue out. I know this is a weird thing to say, but I feel like I'd be friends with her IRL if we were the same age and I was, ya know, also famous or something.
For True's 6-month birthday, mom Khloé threw a "Cousin Cupcake party" and invited over True's cousins Stormi, Chicago, and Saint.
Stormi, daughter to Kylie Jenner and Travis Scott, is just ahead of True in age coming in at eight months. Kim and Kanye's daughter Chicago was born one month before Stormi and is now nine months old. Of course, Saint, 2, is the big kid in the group when his older sis North, 5, and cousins Reign, 3, Penelope, 6, and Mason, 8, aren't around.
I can only imagine what kind of family group costume Kris Jenner must be planning. Remember Kris, pics or it didn't happen!