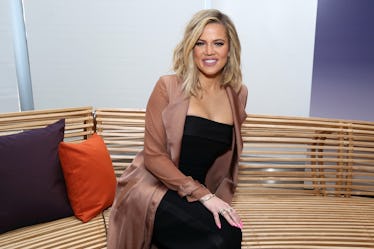 Khloé Kardashian Is Designing Her Baby's Nursery & It's Going To Be Everything
Cindy Ord/Getty Images Entertainment/Getty Images
Although fans are still in the dark about Kylie Jenner's alleged pregnancy, her big sis has revealed the deets about her own bundle of joy. Ever since Koko confirmed her bun in the oven, there's been a lot of hype over the new member of reality TV's favorite family. Now, Khloé Kardashian's nursery is underway, and baby fever is officially in full effect.
According to reports, the 33-year-old is extensively renovating her Calabasas home and getting it ready for her tiny tot. She did purchase her place from none other than Justin Bieber in 2014, and what was originally a bedroom has been renovated into Kardashian's stellar walk-in closet. Now, however, her wardrobe is taking a back seat, as the room is being transformed into a nursery.
The walk-in closet, which has made several cameos on TV, is the perfect locale for Kardashian's first child. The space is close to the master bedroom, and the size is just right for a little one. Although a particular style and color scheme have yet to be revealed, it's been reported that Kardashian is going all out with the décor. Honestly, are any of us really surprised?
The big reveal now would be the color, as it might give hints into her baby's gender (though rumors are circulating that she's expecting a baby boy). Regardless, decorating for a first-born is surely exciting, and this baby will have quite the digs. Koko, your fans are going to be really excited for a peek inside, so don't hold out.
Although we're not exactly sure where the crib and rocking chair will go, one thing we are certain of is the mommy-to-be's excitement. In December, she took to Instagram to reveal the big news to her fans. In a black and white photo showing off her tummy (and boyfriend Tristan Thompson's hands around her baby bump), Kardashian revealed,
My greatest dream realized! We are having a baby! I had been waiting and wondering but God had a plan all along. He knew what He was doing. I simply had to trust in Him and be patient. I still at times can't believe that our love created life! Tristan, thank you for loving me the way that you do! Thank you for treating me like a Queen! Thank you for making me feel beautiful at all stages! Tristan, most of all, Thank you for making me a MOMMY!!!
The emotional social media postings didn't stop there. Koko's "Best Nine" 2017 on Instagram a few weeks later all point to one thing: motherhood. Whether it's a photo of her baby bump or a shot with her nieces, her "Best Nine" proves she's is certainly ready for a little one. In her lengthy caption, she explained what she's looking forward to in 2018. She said,
This past year has been full of love, blessings and happiness! Lord knows I'm grateful for the place I am in in my life! I tell Him daily 🙏🏽 but I can not begin to explain my excitement for everything new in 2018!! Nerves and anxiety are an underestimate. I'm thankful to have a beautiful support system in place to help me celebrate New chapters! New experiences! New beginnings! I'm trusting the magic of NEW this 2018!
Though she has been rather forthcoming about her pregnancy, Kardashian is keeping her mouth shut about lil' sis Kylie Jenner... so Ellen had no choice but to give the reality starlet a run for her money when she appeared on the talkshow. DeGeneres asks, "Is Kylie craving things yet?" Kardashian let out a laugh and responds, "What do you mean?" The host makes no bones about it and says, "She's pregnant." Clearly flustered (but still giggling), Kardashian replies, "Oh, I don't know what you're talking about." She suggests that DeGeneres has Kylie on the show to discuss the issue, but of course she's one-uped as the comedian says that Koko's eyes reveal everything there is to know.
There's definitely a lot to keep up with now, so hold on to your hats!