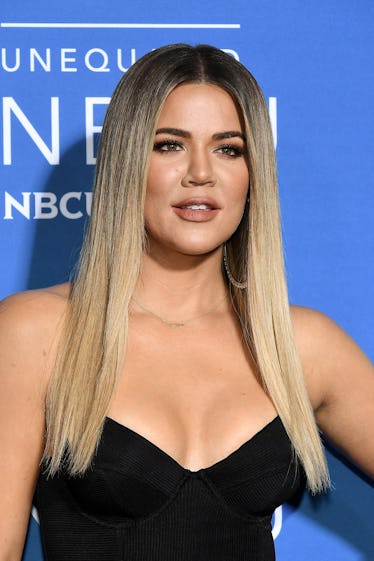 The Total Price Of Khloé Kardashian's Baby Registry Will Seriously Blow Your Mind
Dia Dipasupil/Getty Images Entertainment/Getty Images
Have you ever wished that in your next life, you could be born into a famous family? No, just me? Come on, doesn't the idea of ridiculously talented parents and an allowance that's most definitely more than $20 a week entice you at all? You can't tell me that you haven't at least thought about being a Kardashian kid once or twice in your life. If you haven't thought about it yet, maybe you will after hearing the total price of Khloé Kardashian's baby registry, because that little lady is going to be living the good life.
Does it surprise you that Kardashian's registry includes top-of-the-line items? Because it shouldn't. According to E! Online, all of the baby items on Kardashian's Amazon baby registry add up to a whopping total of more than $6,000.
I'll let that one sink in for you for a moment.
"I have been looking forward to becoming a mom for a long time, and am so excited to be getting close to my daughter's birth," Kardashian told Amazon via E! Online.
Honestly, KoKo, we're probably almost as excited as you are. But I digress.
If you take a quick peek at Khloé Kardashian's Amazon baby registry, you'll see that she has items like a Babyletto Convertible Crib ($649), an Uppababy Stroller ($750), and a $700 Dyson Cyclone V10 Absolute vacuum, because according to Kardashian, everyone knows that she loves to keep her home "super clean and organized!"
Can someone buy me a vacuum if I created my own registry? I'm not pregnant or anything, but could totally use a new cleaning product in my life.
Also on Kardashian's baby registry? A ton of bath time essentials. "I am so looking forward to the routine of winding my daughter down with a warm bath and getting cozy for bedtime," Kardashian said to Amazon.
And, of course, a Kardashian baby will be a stylish baby, so there's plenty of cute things to dress her up in on the registry. Kardashian's sister Kourtney told Amazon, "I cannot wait to start dressing Khloé's angel baby girl."
NOW are you understanding why it might be cool to come back as a celeb baby in your next life?
It's not like her ultra-luxe registry is much of a surprise, because hello, did you see her baby shower? There are literally no words to show you how stunning it was, so let me just show you a few photos so you'll understand.
Do you see all of this beautiful flower garland hanging from the ceiling?
Oh, did you happen to miss the massive balloon pit in the center of the room?
Baby shower goals right there.
But personally, nothing tops the topiary elephant on a bed of roses and balloons, because why not?
The baby shower, which was held at Hotel Bel-Air in Los Angeles on March 10 and was sponsored by Amazon Baby Registry, looked like pure magic. A source told People:
The shower was very over-the-top, but absolutely stunning. It was like a pink dream. There were pink flowers, including roses, everywhere! As guests entered the ballroom, they were greeted by gorgeous, hanging flower decorations.
UM, yah. From the looks of it, over-the-top is an understatement. The source continued:
There were lots and lots of pink balloons. Pink lights also gave the shower a very romantic feeling.
This baby shower was the definition of the word extra, and I am LIVING FOR IT.
With Kardashian's due date quickly approaching, I hope that she gets everything she needs of her registry in time for the baby's arrival.
LOL, let's be serious, of course she'll get everything she needs for her daughter, even if she has to buy the items herself.
While her exact due date isn't confirmed, she did post on Instagram in January that she was six months along:
So really, we should be getting ready to welcome Kardashian's daughter into the world any day now.
Khloé, if you *really* need some help with your baby registry items, I'd gladly deplete my savings to purchase at least one thing for you.
You're welcome.