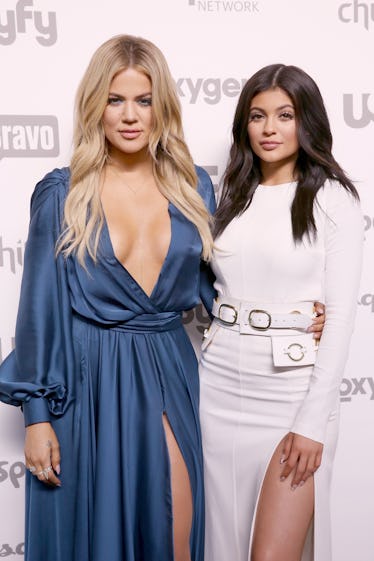 Khloé K Opened Up About What It Was Like Watching Kylie Jenner Give Birth & I'm LOLing
Robin Marchant/Getty Images Entertainment/Getty Images
May God bless all of the Kardashians, but most especially Khloé. Now, I'm not saying that she's my favorite sibling, but her wit and sense of humor just make her so damn relatable. And apparently, Khloé Kardashian watched Kylie Jenner give birth and her reaction is exactly what you'd expect coming from the most hilarious Kardashian sister.
According to her most recent blog post, she talked about how she's been in the delivery room for all of her sister's deliveries, which is kind of amazing if I'm being honest. But she said that one sister's labor in particular was incredibly significant to her, and that was when Kylie gave birth to Stormi. She wrote,
I've been so lucky to be in the labor and delivery room for every one of my sisters' deliveries. I'd say the most significant experience was when I watched Kylie give birth. I was six months pregnant, so it was a lot more real because I knew I'd have to do that in three months. You don't miss a beat when you know you have to do it soon! But having said that ... I don't think it's smart to watch another person give birth when you're pregnant, LOL.
Props to any pregnant lady who watches another pregnant lady give birth. I'd almost certainly pass out if I knew what I should be expecting for myself in just a few short months.
That's me, fam.
And many fans thought that Khloé Kardashian already gave birth because of her assumed due date and the fact that she hasn't been super present on social media recently.
On April 6, one Kardashian-focused Twitter account wrote, "I have a feeling khloe kardashian had her baby because if she's home all day she would be more active on social media":
While another fan tweeted on April 8, "Due to @khloekardashian's lack of presence on social media I'm growing pretty sure of my suspicions she's had her baby. #CallingItNow."
While they do raise some good points, Khloé herself swooped in and promptly ended the speculation train with just five words: "I wish you were right." Cue the LOLs, please:
But the idea of going into labor isn't that dreadful for Khloé (how, I honestly don't know), and in a blog post on April 9, explained why she's not afraid to give birth. She wrote,
I don't feel like I need to prepare for my birth by freaking myself out. I've seen over eight births live and in person.
EIGHT, you guys. EIGHT.
Khloé continued, writing,
Women were made to do this. It's a very natural experience. I read my apps every day and I ask my doctor if I have any questions, so I'm honestly not that afraid.
Though she did admit, "Of course I'm a little nervous to go into labor," but added that she's "trying to not overthink something that literally happens all the time."
I mean, that is a pretty good point. Of course, the idea of childbirth still scares the ever-living crap out of me, but I guess we'll just tack this onto the list of how Khloé and I are different. It will live right between our vastly different bank accounts and our upbringings that have literally nothing in common.
Plus, it must be helpful to have so many women surrounding you that have already given birth, and can help you through it all. Kim Kardashian even told Entertainment Tonight that she gives Khloé advice on what to expect during pregnancy. "Khloé and I have a really good thing going on right now," she said, adding, "I'm like the real one with her [about] what goes down and how it's going to go down."
What are big sisters for, if not to tell you what kind of crazy stuff is going to happen to you while in the delivery room?
Khloé, I wish you nothing but the best when it's your turn to give birth, but I have a feeling you'll be just fine, considering all of the women who you'll be surrounded by. You Kardashians stick together, and I love you for it.