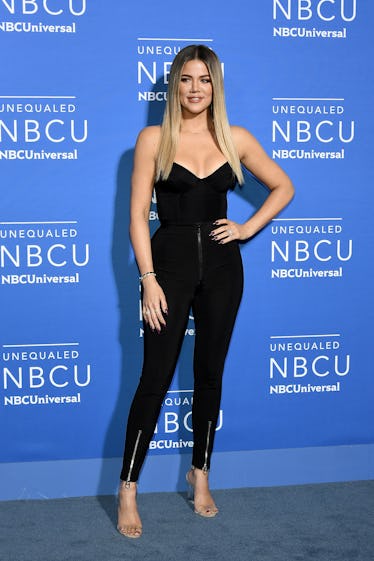 Khloé Kardashian's Daughter Reportedly Almost Got A Different Last Name Than Thompson
Dia Dipasupil/Getty Images Entertainment/Getty Images
Khloé Kardashian welcomed her first child — a little girl! — into the world on Thursday, April 12, amid rumors that her baby daddy, Tristan Thompson, was cheating on her. I know — I'm still not over it, either. Probably never will be. So, when the new mama took to Instagram on April 16, some fans were shocked to find that despite the whole scandal, KoKo had given her baby Thompson's last name. Her name is officially True Thompson, and I really don't know how to feel about that. But now comes the a report that initially, Khloé Kardashian wanted to name her daughter True Kardashian.
According to a new report from TMZ, Kardashian was super conflicted about what last name to give True after she found out her man had been stepping out. Elite Daily has reached out to Kardashian's teams regarding this report, but did not hear back by the time of publication. A source told the publication that the Revenge Body star chose the adorable name True about a month ago, and decided that her last name would be her father's.
But then, of course, the whole cheating thing went down a few days before Khloé went into labor. As many know, The Daily Mail reported on April 10 that Thompson cheated on Kardashian while out in New York City with the Cleveland Cavaliers the weekend of April 7. Elite Daily reached out to Kardashian and Thompson's teams about the cheating report but did not hear back by the time of publication. When Kardashian finally gave birth, TMZ claims she was torn about whether to go with Kardashian or Thompson on True's birth certificate.
Obviously, Kardashian ended up choosing Thompson's surname, though TMZ's sources said it took her a few days after True was born before she was finally able to make that decision.
Was Kardashian's decision the right one? That's her call to make. But TBH, it's probably not the way I would have gone, considering Thompson has reportedly been anything but "true."
Meanwhile, TMZ also revealed that someone close to Kardashian placed an order for a baby blanket at a store called Petit Tresor in Beverly Hills. "We're told the order was placed right when the scandal broke and the store was told not to embroider the initials until Khloé made her decision," the website reported. TMZ continued, claiming, "The call was finally made Monday to use the initials TT."
Not gonna lie — I am kind of loving "TT" as a nickname for baby True. It's just so, so cute! KoKo and TT? I mean, what's more adorable than that?
I'm also loving the meaning behind the first name True, which was revealed by Kris Jenner in an Instagram post on April 17 that featured a picture of a ceiling full of pink balloons.
"I'm so excited to welcome my precious little granddaughter True!!!," she wrote in the caption. "FUN FACT... my Grandfather's name on my Dad's side was True Otis Houghton....my real Dad's name was Robert True Houghton...so i am so excited Khloe named her daughter True!!! #lovebug#familytradition#family @true."
Such a beautiful story! Bottom line: No matter what happens with Kardashian's relationship with Thompson down the road, I know she is going to be the best mama to baby True, and I am just so happy that she now has this kind of unconditional love in her life. There is no truer bond than that between a mother and her daughter. So you just keep doing you, mama — and enjoy every single moment with that sweet baby girl!