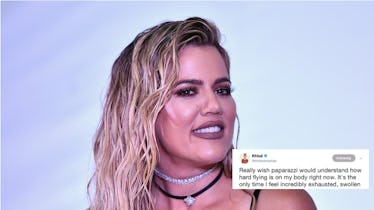 Khloé K Calls Out Paparazzi For Invading Her Privacy: "I Would Love Some Boundaries"
Alberto E. Rodriguez/Getty Images Entertainment/Getty Images
The Kardashians are not a family typically known for shying away from the limelight. Unless, of course, you're Kylie Jenner and the entire world is scrambling to catch a glimpse of you and your reported baby bump. Then you fly completely under the radar by going into hiding. But let's face it — for the most part, this is a crew that has built an entire brand by letting the cameras into their lives. Of course, that doesn't mean reporters should expect to have carte blanche to document the family's lives 24/7. Now an expectant Khloé Kardashian is calling out the paparazzi on Twitter — and TBH, I kind of don't blame her!
The pregnant Keeping Up With The Kardashians star took to social media on Jan. 28 after being bombarded with paparazzi yelling at her and trying to take her picture at LAX, where she was reportedly returning from a trip to Cleveland.
"Really wish paparazzi would understand how hard flying is on my body right now," she wrote on Twitter. "It's the only time I feel incredibly exhausted, swollen and nauseous. Screaming rude things and taking my picture when I already feel like crap I can really do without. At least be quite [sic] if you must."
Tell 'em, girl!
Fans of the reality star and Revenge Body host — who is now in her seventh month of pregnancy — quickly began liking and sharing Khloé's post, as well as tweeting back their support.
"There is a way to go about things," wrote one fan. "Honoring and respecting your boundaries should come first always."
Amen!
"You're a wonderful woman," added another. "You deserve respect like everybody else."
It's so true. I know some people think it's hypocritical to openly court fame and use the cameras to your advantage, and then expect them to go away when you're not in the mood. But I truly believe some things should be off-limits, and pregnancy, in my book, is one of them. It's such a special and sacred time in a woman's life — shouldn't she be the one who gets to decide who she wants to share it with? I'm proud of Khloé for standing up for herself and speaking out on Twitter, and I love how she even went out of her way to respond to some of the tweets she received, like this one from pop culture and entertainment host Caitlyn Becker:
"As an entertainment journalist, this makes me so sad," Becker wrote. "Gives us all a bad rep. @khloekardashian you look amazing even tired AF! Let's see any of those paps look as good as you all while growing a damn human at the same time!
Um, can we please make that happen?
"Awwww thank you love!!" the Good American founder tweeted back. "I will never put all of you guys in one category. And I understand everybody has a job to do. But yelling obscenities at me it's just inappropriate. I think especially at this stage. People should be sensitive to hormones if nothing else."
Preach! Khloé is currently expecting her first child with her NBA player boyfriend, Tristan Thompson, and the one thing she has been super open about with her fans is her growing and changing body.
"I now have cellulite on my legs!" she tweeted on Jan. 25. "Cute! Cute!"
So relatable. And I loved the way she later joked about the reason she doesn't have any stretch marks yet. "So far no stretch marks," she wrote. "So I'm happy about that — the perks of being chubby previously. Lol my tummy knows how to stretch."
Way to keep it hilariously real, Klo. Can't wait for you to be a mama!