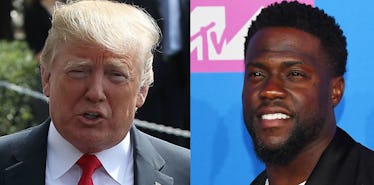 Kevin Hart Shaded Donald Trump With This Ruthless Joke At The VMAs
Mark Wilson/Getty Images News/Getty Images/Nicholas Hunt/Getty Images Entertainment/Getty Images
I wonder if the president is watching the VMAs right now. If he is, I have a feeling he'll have something to tweet about in the near future. Why? Because Kevin Hart shaded Donald Trump at the 2018 VMAs with a ruthless joke, and I'm going to assume he didn't like it.
Hart made a blatant comment about Trump while he was presenting an award at the VMAs on Monday, Aug. 20. He was on stage with Tiffany Haddish when he made a comment about the president... and let's just say it wasn't a flattering one.
While he was presenting, Hart made a straightforward political comment relating to kneeling protests in the NFL, which is obviously an act that the president is strongly against. During the show, Hart said, "I understand that we are live, coast to coast right now; I'm looking at this like it's game day, people. But do not worry, because at this game, you guys are allowed to kneel. You can do whatever the hell you want. There's no old white man that can stop you. Do it."
Apparently, that isn't even where Hart ended. According to Fox News, the comedian also related the VMAs to "a typical day at the White House." He reportedly said, "Beefs pop off, bad language, people run to the bathroom and send out crazy tweets. It's basically like a typical day at the White House. In your face Trump, suck it."
Again, I can't help but wonder what Trump has to say via Twitter about Hart's VMA comments. I guess the nation will have to wait and find out.
If you're confused about what Hart was talking about, let me catch you up. The NFL protests were put into the spotlight when Colin Kaepernick sat during the national anthem in 2016 during the NFL preseason. When Steve Wyche of NFL.com asked why he didn't stand, Kaepernick said,
I am not going to stand up to show pride in a flag for a country that oppresses black people and people of color. To me, this is bigger than football and it would be selfish on my part to look the other way. There are bodies in the street and people getting paid leave and getting away with murder.
When the football player was accused of disrespecting the military, he responded with, "I have great respect for the men and women that have fought for this country. I have family, I have friends that have gone and fought for this country. And they fight for freedom, they fight for the people, they fight for liberty and justice, for everyone. That's not happening. People are dying in vain because this country isn't holding their end of the bargain up, as far as giving freedom and justice, liberty to everybody."
Eventually, other NFL players began joining Kaepernick on his journey — and Trump has continuously shown disdain for the protest, saying it's a "Total disrespect for our great country!"
President Trump also took the view that the kneeling players were disrespecting the flag, despite the previous explanation from Kaepernick in 2016 that it was about police brutality. He also advocated for fans to boycott the games because of the protests.
The act — which is mainly about protesting police brutality — has been largely condemned by the president, and Hart is obviously not OK with that Trump's negative comments. So, yes, that is why Hart encouraged people watching the VMAs to kneel if they want to.