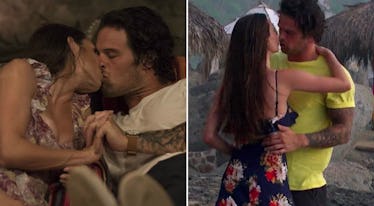 Kevin & Astrid's Body Language On 'Bachelor In Paradise' Shows They're Not Meant To Last
ABC
Ah, Bachelor In Paradise — the best of the Bachelor franchise to ever exist, in my personal opinion. The reality show basically consists of attractive people drinking on a beach while desperately trying to form love connections to avoid getting sent home and back to actual reality. It's the most entertaining, and while some of it is certainly more fun to watch than truly realistic, certain couples have definitely captured the hearts of audiences, much like Kevin and Astrid. We can tell a lot about their bond by looking at Kevin and Astrid's body language on Bachelor In Paradise. Namely, is it real? And will it last?
If you aren't familiar with Kevin and Astrid's love story, then allow me to fill you in. The two former Bachelor franchise contestants have been a solid couple since the very beginning of this season of Paradise. Even though Kevin thought he wanted to pursue Krystal at the start of the season, once Astrid arrived, he was hooked.
Fast forward to last week's episodes, when Kevin told Astrid he felt insecure because, on both of the Bachelor franchise shows he was on, he left with relationships that failed. He told her he wished she would have dated other guys instead of just only being with him, so they could be sure of their connection. Astrid (understandably) didn't take this well, but they ultimately made up and things went back to normal.
Here's what experts have to say about the couple's body language on the show, and what awaits them after cameras stop rolling. Does Kevin have a greater chance of making this relationship last? Only time (and body language) can tell!