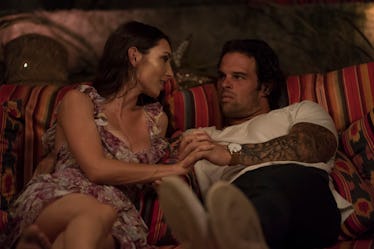 Bachelor Nation Is Asking One Major Question About Kevin & Astrid
ABC/Paul Hebert
If you're a Bachelor in Paradise #Kevtrid (we'll work on that ship name later) fan, you do not seem to be alone. Viewers are rooting for the couple who could easily be labeled as one of the show's most solid match-ups at this point in Season 5. The Canadian fireman from Winter Games and the sweet Florida plastic surgery office manager from Nick Viall's season even got real about their relationship status on Aug. 27's episode. So, do Kevin and Astrid get engaged in Bachelor in Paradise? It's possible the pair could go the distance.
"I wouldn't be the way I am with you if I didn't think of it the bigger picture," Astrid told Kevin through tears when he implied he would be open to exploring other people on Monday's dramatic BiP installment. His words clearly caught her off guard since they've been going strong, though it turns out he may have just been protecting his heart from future breaking. He explained:
I told you my insecurities about this. I told you my insecurities about how I got engaged in this situation and it was the best ever and there was noone who could come between us. As soon as the real world came in it all fell apart. I feel you and I connected so quicly, we didn't have to go through any tests whatsoever.
Kevin then admitted that he almost didn't come to Mexico because he was worried about facing the patterns that hurt him on his previous reality TV show journeys. He went on:
When I was on The Bachelorette I thought I was getting married and then she broke my heart. When I was on Winter Games and I was with Ashley, I didn't know where it was going but I was optimistic. Now I'm 0 for 2 on these kind of experiences, so when I meet someone like you who's basically my dream girl I guess I'm like, 'when's the storm coming?'
Kevin's honesty is appreciated, but it's hard not have empathy for sobbing Astrid, who unfairly had to feel the burn of his prior romantic losses. She's his supposed dream girl! Fortunately, their open conversation only brought them closer.
"I don't want either of us to screw this up, OK?" Astrid said, after they made up with a kiss and an apology on Kevin's end. "This is like, real to me. Very real."
Aww. Feelings are tough, man. Especially in Paradise. As Astrid noted, dating other people is not the answer when you're scared of things going wrong. It looks like the duo is sticking it out and love is in the humid air.
Neither Astrid or Kevin have divulged if they're currently single post-Paradise, but they haven't been shy about their social media interactions lately... so that's a good sign?
Following their mature exchange last night, Bachelor Nation is here for what they've got going on.
Regarding Season 5's romantic success, Chris Harrison has teased that "love will be found in Paradise." Now that they've gotten past this emotional hump, hopefully Kevin and Astrid will make it to the end... awkward sausage kisses and all.