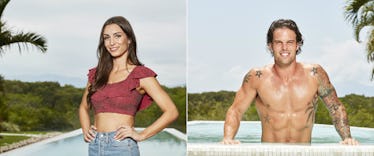 3 Clues Astrid & Kevin Are Still Together After 'Bachelor In Paradise'
ABC/Chris Sjodin
She's the funny brunette from Nick Viall's season. He's the hunky Canadian fireman from Winter Games. Together, they're the couple that shared a sausage kiss, Lady and the Tramp-style, on Monday's episode of Bachelor In Paradise. They also just happen to be one of the strongest pairs on the show so far. But are Astrid and Kevin still together after Paradise? They're connection is undeniable, so fans are wondering what their relationship status is now.
Astrid Loch, a plastic surgery office manager from Florida, got to week four of Bachelor Season 21 before her journey was cut short. She didn't make an appearance on BIP Season 4 last summer, but she headed to the beach for 2018 and is clearly enjoying her time under the sun alongside Kevin Wendt. Toronto-based Wendt was a big part of February's Bachelor Winter Games. He ended up winning the whole competition with Bach fan-fave Ashley Iaconetti and they dated until breaking things off last March. (Ashley's now engaged to fellow BIP alum Jared Haibon.)
Kevin kicked off his time in Mexico by connecting with Krystal from Arie's season due to a mutual love of fitness, although he and Astrid ultimately hit it off and have been seemingly inseparable ever since. Neither of them have confirmed if they found long-lasting love on BIP. Are they going strong these days? There are a few signs that point to post-Paradise romance, though there could be potential hiccups to come.
1. They're Arguably the Most Solid Couple To Date
OK, not "to date" in all senses of the phrase. Astrid and Kevin have yet to go on a proper outing outside of the confines of Playa Escondida, so who knows what would happen if one of them were to land a date card? It seems likely that neither of them would explore other options if given the formal chance. Kevin gave Astrid his rose and all evidence suggests he'll get hers come the next time flowers are handed out. Before last week's ceremony, a worried Anneliese even admitted that she wished she was in a situation like Astrid and Kevin's, which shows that the inner BIP circle believes in them.
"Astrid's someone that I actually can see myself building a relationship with," Kevin remarked on last week's episode.
2. Social Media Is All About It
For starters, Kevin and Astrid follow each other on Instagram, which makes a lot of sense since acquaintances typically do this... I follow my friend's second cousin I met twice, so it might not mean much. But Astrid also hasn't refrained from tweeting at and about her BIP flame. She shouted him out in a recent Raven Gates reference.
Kevin remarked about that sausage-smooching moment, noting "Sausage feeding is a big step in a relationship."
He also highlighted a tweet complimenting the pair on their "under the radar" Paradise crushing.
Another Instagram hint: Both Kevin and Astrid were in Los Angeles around the same time at the end of July, though other fellow Bachelor alums were in the area as well.
3. The Promos Don't Focus On Their Drama... But There Could Be Tears Ahead
The trailer for the season and subsequent promos for the upcoming episodes don't spotlight Astrid and Kevin's courtship — does that mean there's no trouble in Paradise on the horizon? ABC has teased the Kendall/Joe/Leo love triangle and more Jenna and Jordan issues, leaving Kev and Astrid's connection mostly out of the mix. While Kevin does seem to be at the center of some sort of fight ahead, the conflict doesn't appear to revolve around Astrid. The preview for next week shows Astrid wiping away tears in a blink-and-you'll-miss-it moment before Kevin says, "It's the worst thing to see her cry." Hopefully their low-key love won't hit any bumps going forward and the crying is unrelated to romantic heartbreak.
"I won't tell you how many or if it's official, but yes, beyond obviously Ashley and Jared — which is the miracle of all miracles, let's face it. How that happened, wonders never cease. But love will be found in paradise," host extraordinaire Chris Harrison has revealed to E! News about Season 5's outcome.
Astrid and Kevin, Bachelor Nation is rooting for ya!