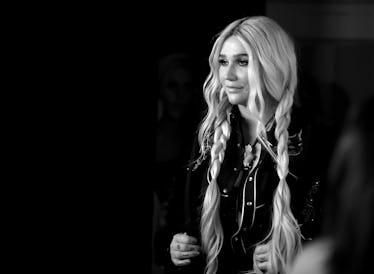 Kesha Opens Up About Having An Eating Disorder: " I Felt Very Ashamed"
Ethan Miller/Getty Images Entertainment/Getty Images
Kesha, the Queen of Pop, has been in all of our minds and hearts this year. After the release of her powerful song "Praying," we all sat back and basked in Kesha's glorious return. I don't think anyone knew Kesha could sing like that. It's fair to say Kesha shocked the world in the absolute best way, and we are praying she releases new music immediately. Kesha is on the cover of the latest issue of Rolling Stone Magazine, with the victorious article titled, "The Liberation of Kesha." In the article, Kesha opens up about her eating disorder and becoming herself again.
At only age 30, the artist has been through quite a lot. Not only has she recovered from a serious eating disorder, she's also working through an unsettling, unresolved legal battle with producer Dr. Luke.
Kesha has seen the highest highs and the lowest lows. She told Rolling Stone,
I feel like myself for the first time ever. And I made a record I'm extremely proud of, from the bottom of my guts. I excavated the most gnarly lyrics that were so difficult for me. And people still like it! It's really beautiful, and it's very healing. I feel like I'm being seen for what I actually am, and people are OK with it.
Kesha's album Rainbow debuted at number one in August, which left many surprised (including Kesha), considering the album almost didn't come out. She had to get healthy and learn how to cope with an eating disorder first. She remarked,
I really just thought I wasn't supposed to eat food. And then if I ever did, I felt very ashamed, and I would make myself throw up because I'd think, 'Oh, my God, I can't believe I actually did that horrible thing. I'm so ashamed of myself because I don't deserve to eat food.'
Kesha added that her eating disorder continued to worsen as her career evolved.
I was slowly, slowly starving myself. The worse I got and the sicker I got, the better a lot of people around me were saying that I looked. They would just be like, 'Oh my gosh, keep doing whatever you're doing! You look so beautiful, so stunning.'
Kesha also recalls being at a dinner party where she feared her friends would find out she wasn't eating.
And I was like, 'Oh, my God, what if they walk outside and see this food in a bush? Or they see it in the garbage can?' I just had all this mounting anxiety. And then finally I was like, 'F**k. This. S**t. F**k this s**t. I'm hungry!' I remember just shaking because I was so fed up, so anxious, and I was just mad that I had let myself get to that point.
Soon after, she pulled her car over and called her mom, Pebe Sebert. Her mom flew her to a rehab facility immediately, where a nutritionist taught her how to survive.
I didn't know how to even eat. At that point, I'd forgotten how to do it. I just remember crying into a carbohydrate, being like, 'I can't eat it. It's going to make me fat, and if I'm fat, I can't be a singer because pop stars can't eat food -- they can't be fat.'
The new Kesha may not be anything like her old, party girl, whisky drinking self, but she's not ashamed of her past. In fact, the old Ke$ha (remember when she spelled it like that?) is very much alive. She boasted, "I loved what I was doing when I was doing it." She then added,
It was so much f***ing fun! I wouldn't change all the Worst Dressed lists, I wouldn't change the mohawk, I wouldn't change all that sh*t. I'm proud of myself for being that ballsy young girl that was ready to take life by the balls.
Kesha's new album is perfectly named because she is a rainbow, and her fans have been here for her every step of the way. We love you, girl. You are who you are.
Check out the entire Gen Why series and other videos on Facebook and the Bustle app across Apple TV, Roku, and Amazon Fire TV.