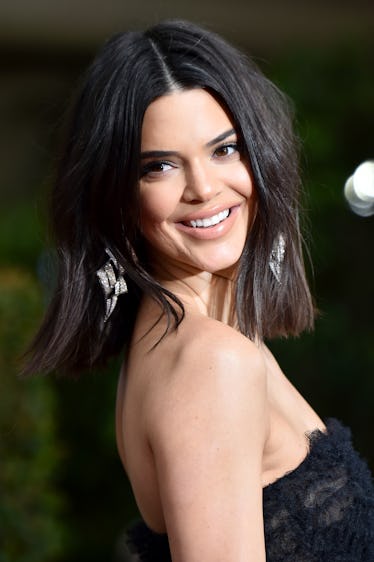 People Are Literally Body-Shaming Kendall Jenner's Toes & I'm Quitting The Internet
Frazer Harrison/Getty Images Entertainment/Getty Images
The internet is officially over. It's canceled. Close your laptops and walk away because people are now judging people for how their toes look. Toes. Kendall Jenner recently posted photos on Instagram from a nude photo shoot she did. The pictures are stunning, as is Jenner in them, but people in the comments section just can't help themselves from expressing their opinions about the model's feet. Yup, Kendall Jenner's toes are getting shamed on Instagram, and I'd officially like to leave the planet.
Jenner posted nude photos from her photo shoot with photographer Sasha Samsonova on Instagram on Monday, Feb. 26. The photos show Jenner sitting on an outdoor staircase surrounded by plants in one, and her sitting on patio furniture in another. She uses her hands and legs to cover the parts of her body Instagram would delete the post over if they were to be shown (free the damn nipple, guys). The black-and-white photos are absolutely stunning, but people in the comments section just couldn't let her toes go. In the first photo Jenner posted, you can see her toes are kind of long. But she's also a pretty tall person, so it's normal for her to have long toes. Also, who the f*ck cares what her toes look like? Internet trolls, that's who.
People took to the comments section to say things like, "Your toes are like fingers," "What's wrong with your feet?" and "Those toes have toes."
People also commented about Jenner's feet on Twitter because of course.
While there are plenty of people wasting their energy by hating on Jenner's toes online, there are also plenty of people on Twitter and Instagram calling these people out on the unnecessary comments.
People just can't stop policing Kendall Jenner's (and just about every woman's) body, I guess. *Sighs in the key of disgruntled feminist*.
Kendall Jenner was also shamed during the 2018 Golden Globes because of her acne.
Jenner had a handful of pimples on her cheeks when she walked down the 2018 Golden Globes red carpet, and people couldn't help but point them out online. Some people were accusing of her getting Botox in her cheeks and saying that's what the marks on her face were from, but even if she did get Botox, who cares? It's her body. She can do with it as she pleases. Also, acne is a completely normal thing for people to have. People get breakouts. Sh*t happens. You continue with life anyway. Jenner's response to her Golden Globes acne was as simple and on-point as a person could get.
One Twitter user tweeted photos of Jenner at the Golden Globes and said, "Ok but @KendallJenner showing up and strutting her acne while looking like a gorgeous star is what every girl needs to understand." Jenner quoted the tweet and said, "Never let that sh*t stop you!" Yes, girl!
Jenner hasn't responded to any of the hate about her toes yet, but I wouldn't blame her if 1) she didn't respond to the hate at all (don't let that negativity in, honey), and 2) she disabled people from being able to comment on her Instagrams altogether. Both are valid reactions to this trolling, but Jenner doesn't always respond when she gets hate like this (which is often), so we might not be hearing her thoughts on this at all.
It's sad to see such an infinitesimal thing be picked apart by people online. Sure, Kendall Jenner's toes are long, but who cares? Is there any point in commenting on her Instagram about it? Are people trying to make sure she's aware of it...? Guys, they're her toes. I'm sure she's aware of what they look like. But, uh, thanks for letting her know, I guess? This is honestly so exhausting. Leave the woman's toes alone.