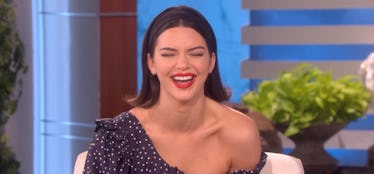 Kendall Jenner Reveals The Story Behind Her Lip Tattoo & It's Actually Hilarious
YouTube
Listen, Kendall Jenner is the most underrated Kardashian. We can all agree on that, right? The world has been so busy looking at the great Kardashian Babyboom of 2018, fans haven't even noticed that Jenner is still (and always) killing the game. She recently dropped by her friend Ellen DeGeneres' show to talk about the story behind her famous lip tattoo and what it was like getting inked up "in her face." Kendall Jenner's lip tattoo story is actually kind of awesome and reminds me why she's low-key the best.
Pretend you are put on the spot and HAVE to get a tattoo right this second. Where would it be? What would it look like? When Jenner found herself in the trendy ink parlor West 4 Tattoo back in September 2016, for some reason she thought, "Ya know what. Put the word 'meow' on the inside of my lip." Or at least that's what she told Ellen. Kendall says she and some friends went to the popular tattoo spot after drinking in NYC and she made the decision on a whim.
The TV host took no time getting straight to the point and asked all of the questions everyone has been wondering for years. Mainly — why, what, when, how? One of the coolest things about Kenny is how down-to-earth she seems to be IRL. Without hesitation, she said, "I was drunk! I was not thinking clearly."
Oh. That explains it.
Deciding to put ink on the inside of your mouth is a pretty specific placement. DeGeneres agrees. She exclaimed, "Of all the places to get a tattoo!" To which Jenner replied, "In my face. In it."
Of course, DeGeneres had to know more. She asked, "Why 'Meow'? Why there?"
"It was literally the first thing that came to my mind. I don't know, just my drunk thoughts," Jenner said. "I feel like it would be a good place to put something..."
Here's what I love about my main girl Ellen: She doesn't sugarcoat anything. Before letting Jenner go, she said,
I know we're out of time, but this is important. It doesn't even matter if it airs. I need to know. I would think that would be the worse place... I mean, didn't that hurt? Or you were drunk?
Ah, Ellen. So young-spirited, so naive. "No! [It didn't hurt.] Because it's just fattiness," Jenner explained. "Bones hurt a lot."
The supermodel also has two small white tattoos on her fingers which she claims were more painful. One is a small broken heart and the other is a simple white dot. Jenner says her first tattoo was the dot, which she went in for because she was curious about what it felt like to get inked up. She said, "All my friends have them. I was like, 'I just want to know what it feels like.'" As for the heart? It's a friendship tattoo she shares with Hailey Baldwin.
In actuality, Jenner's tattoos are super hot commodities considering they were given to her by celebrity tattoo artist, JonBoy. JonBoy has been known to ink up tons of young, famous people including Jenner's good friends Bella Hadid and Hailey Baldwin, and her little sister, Kylie. Even though JonBoy specializes in tiny designs, I'm sure it cost a pretty penny just to get "meow" on the inside of her lip.
JonBoy (Jonathan Valena) once spoke with The New York Post about Jenner coming in for her first white dot tattoo with Baldwin. He said,
They both were nervous about getting tattoos, so I had to tell them the pros and the cons of what the tattoo will look like over time. If I sense that a person is not ready to get inked, I tell them to go home and think about it.
He also explained the meaning behind Jenner's white dot:
To her, it represents the little things that matter. She is a model, so she was very mindful of what she was getting.
Ya know, like a "meow" lip tattoo.
Whatever. Kendall, you're badass as hell. I think a lip tattoo is honestly really freaking cool and a great way to be tough as nails and still keep your day job as a literal face model or whatever. #Meow.
Check out the entire Gen Why series and other videos on Facebook and the Bustle app across Apple TV, Roku, and Amazon Fire TV.