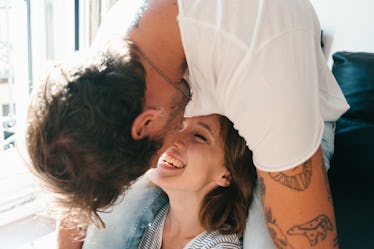 These Minimalistic Tattoo Ideas Are Perfect To Celebrate Your Anniversary With Bae
Congratulations, you and bae have reached a big milestone in your relationship. It can be your first anniversary or your seventh together — either way, it is time to celebrate the love between you two. The usual go-to for an anniversary celebration might comprise of a fancy dinner, some flowers, and chocolates. Those are all great — believe me, I love chocolate just as much as the next person — but if you want to switch things up this year, think outside of the box. You may want to celebrate your anniversary with something that will truly last. That's why some of these minimalistic tattoo ideas are totally the way to go.
What better way to emphasize your love than with some ink? If you both have already been talking about getting tattoos together, there is no better time to do it than on your anniversary. A minimalistic tattoo feels like a little secret between you two, but it's also beautiful for other people to see. Plus, you'll beam when someone asks you about your tat, and you get to share the special meaning it has between you and your favorite person.
If you need some inspo on what to get inked, these seven subtle tattoos are way too sweet to pass up. Find something you both can agree on that represents how you feel about each other, and make it your own. I have an inkling this will be an anniversary to remember.