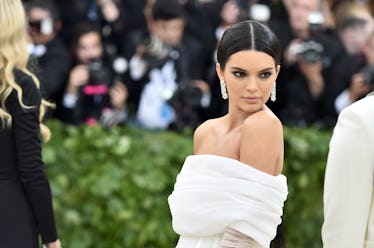 Kendall Jenner Wore A Purse On Her Ankle & Once You See It, You'll Want One Too
Jason Kempin/Getty Images Entertainment/Getty Images
I've encountered countless fashion items and trends in my life that have me ask, What the actual F were they thinking? And I've certainly worn my fair share, too. The latest piece to elicit that reaction from me was Kendall Jenner's ankle bag (yes, you read that right), which the supermodel debuted on her Instagram stories earlier this week. It's tiny, awkward, and reminds me more of what someone on house arrest is forced to wear than a high fashion accessory. In short, I don't get it at all—but I wouldn't be surprised if it soon becomes the it-bag of 2018.
Do you remember those weird dimpled bubble shirts that were so cool in the early aughts? The ones that looked like they would fit an infant until you stretched them out and realized they could fit a teenage elephant? What about banana hair clips? Gaucho pants? Crocs? Doubled-up polo shirts with popped collars? All of the above items were, in their heyday, the coolest things on the market and considered at the pinnacle of accessible style. I'll admit that I wore more of them than not, thinking at the time that I was cooler than sliced bread. But now, every single one of those trends sits at the top of my "biggest regrets" list. And I think for Kendall Jenner, her latest bag choice will sit at the top of hers in a decade, too.
Don't get me wrong, I actually like a lot of the contentious trends that the Jenners and Kardashians have collectively helped to popularize as of late. Bike shorts, mini sunglasses, oversized tee-shirts as dresses paired with over-the-knee heeled boots—it's all gravy to me. But the tiny anklet bag is something I just cannot get behind.
Jenner uploaded a photo of her left foot and calve encircled by a chain strap holding a teeny tiny baby Chanel bag. "It only fits joy," she cleverly captioned the post. Originally produced by Chanel in 2007, the baby bag is now sold-out everywhere. Most recently, it was bought on high-fashion re-seller site The Real Real for a cool $645. $645?! For what is essentially a pouch that couldn't hold more than your average tube of chapstick or three credit cards? What a time to be alive!
While I understand that playful accessories like these are fun for stylists and fashion enthusiasts to integrate into original looks—show me another person who has worn an anklet bag as of late—it's mind boggling to me that they can cost more than what a half year's worth of groceries runs me. What's more, I've got to point out that Jenners' ankle bag, in particular, looks arrestingly similar to an ankle monitoring device!
Twitter agrees and shares in my confusion:
Regardless of your opinion on the bag, it was designed by Chanel, a fashion house that's been defining trends and disrupting the fashion industry worldwide since its founding in 1909. The piece has got some cred no matter how you slice it.
This also doesn't mark the first time we've seen Jenner step out with a so-small-it-barely-counts bag. Remember a few seasons ago when carryalls that would be more appropriate for American Girl Dolls than actual real life it-girls were all the rage? Designers including Jacquemus, Marc Cross, Gimabattista Valli, Valentino, Dolce & Gabbana, the list goes on, all released their own version of the micro bag so naturally Jenner, who wears all of the above brands on the regular, has stepped out toting her fair share of them.
Will she come to regret her anklet? Maybe. But for now, I can't help to feel like she's on the cusp of a tiny trend that's about to blow up.