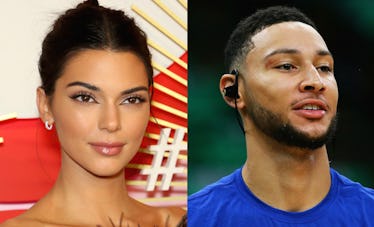 Here's Why Kendall Jenner & Ben Simmons Still Aren't Labeling Their Reported Relationship
Gabe Ginsberg/Adam Glanzman/Getty Images
Kendall Jenner and Ben Simmons are starting to be more cool with being public about their relationship — whatever the status of it is. Jenner has been seen at Simmons' basketball games on multiple occasions recently, and even her family is starting to refer to Simmons publicly as Jenner's "man." But Kendall Jenner and Ben Simmons' relationship status, despite them being slightly more public with their affection, is reportedly still unofficial. Elite Daily reached out to Jenner and Simmons' teams for comment, but did not hear back by the time of publication.
Jenner has been attending a lot of Simmons' basketball games lately. She even attended one recently during which Simmons' Philly 76ers faced off against Tristan Thompson's Cleveland Cavaliers. Jenner booed Thompson during the game, clearly picking sides (in a funny way, not a shady way).
Before that game, she had attended a game at Brooklyn's Barclay's Center on Nov. 4, the same week she was in NYC to walk in the Victoria's Secret Fashion Show. (Anwar Hadid didn't seem too happy about it.) So even if the pair hasn't officially put a label on their romance yet (not that they need to), it seems as though the two — who recently "cooled off" on their romance over the summer due to conflicting schedules — are making more of a conscious effort to spend time together.
A source told E! News that after a summer full of trying to make things works, Simmons has more of Jenner's attention. "Kendall and Ben have been making more of an effort in their relationship recently," the source said, "and have been seeing each other regularly for the last month now. They both are very busy with their careers, but have always been in touch."
Thomas Concordia/Getty Images Entertainment/Getty Images
Allen Berezovsky/Getty Images Entertainment/Getty Images
Jenner and Simmons have reportedly been seeing each other since May, but reports of their romance haven't hinted that the two were exclusive. They apparently had a "cool off" over the summer, not because of a lack of feeling, but because Kendall Jenner is the highest paid model in the world and has a busy as hell schedule. Simmons being in the middle of his basketball season also takes away a lot of his free time.
Despite their reported struggles to see each other frequently, "They never had a falling out," according to the source. "It was just always hard for Kendall because of her work schedule. They reconnected when Ben was in town recently and have been seeing each other since."
The source went on, "Kendall really likes Ben and he has been keeping her attention. They try not to put stress or pressure on the relationship, but Kendall isn't actively seeing anyone else right now."
Another source told E! News that Jenner and Simmons are not officially together at all, although the source doesn't say anything about the claim that Jenner isn't seeing anyone else at the moment. "There's nothing official between Ben and Kendall," they said. "They aren't boyfriend and girlfriend. They hang out and really like each other but they aren't going to label it or take it a step further because their careers come first." The source continued, "They talk all the time and will continue to see each other when they can."
This paints a different picture from what Khloé Kardashian heavily implied in a tweet on Nov. 24.
Kardashian had tweeted the video of Kendall Jenner booing Tristan Thompson so he would miss his free throw shot saying, "Look at my baby heckler. I'm dying at Kenny trying to heckle on the low low! #ItDidntWork."
A fan on Twitter said of this tweet, "Im confused by @khloekardashian's tweets. One minute she's calling TT out, then she's defending being in his life, then she's laughing at her sisters heckling him. I just wanna know where we stand Koko so I know how to feel."
Kardashian set the matter straight pretty quickly, tellingly referring to Ben Simmons as Jenner's "man."
"What he did was f*cked up and disgusting. What you're watching is over seven months old," she tweeted in response to the fan. "We have gone through countless hours of help. My sister was watching HER man Play against my man… So of course she's going to heckle the opposing team. Why are you confused?"
Well, personally, Khloé, I'm just a little confused because I have no idea what to make of literally any of the relationships in your family. But thanks for some minor clarification!!