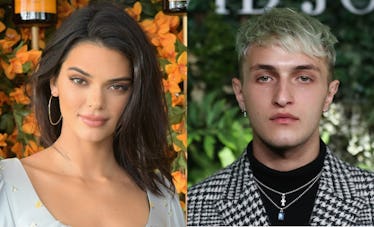 Anwar Hadid's Cryptic Instagram Posts About Love May Send A Message To Kendall Jenner
Charley Gallay/Mark Metcalfe/Getty Images
Kendall Jenner and Anwar Hadid might've had a thing in the past, but they also might've not. Jenner is literally the most secretive person about her relationships out of all of the Kardashians, so color this celebrity writer confused about 99 percent of the time! Now, Anwar Hadid's Instagram posts about love have been hella cryptic and could hint that he's going through a bad case of unrequited love. Could those posts be in response to Kendall Jenner being spotted at her former fling Ben Simmons' basketball game? Whomever these posts are about, Anwar Hadid is all in his feelings about them. Elite Daily reached out to Hadid's team for comment on the posts, but did not hear back by the time of publication.
Jenner and Simmons were reportedly dating over the summer (they even went on a vacation together), but things died down between the two, reportedly because of their conflicting schedules. Classic celebrity relationship downfall. According to Page Six, however, Jenner and Simmons spent some time together recently in New York City around Jenner's 23rd birthday and the filming of the 2018 Victoria's Secret Fashion Show. Jenner carved out some time in her busy schedule to watch Simmons play at the Barclays Center in Brooklyn on Sunday, Nov. 4, and according to a video obtained by TMZ, she had met up with Simmons after his game in Philadelphia on Thursday, Nov. 1.
Then Hadid posted some cryptic photos to his Instagram story. The timing of the posts made it seem like they could be a reaction to Jenner and Simmons' Philly and NYC reunions.
"I wonder if I could be loved as deeply as I love," one photo said. The other showed that Hadid had "why are you still in my mind" written on his arm, along with the caption "BLOODY PALMS" (he had a small injury on his palm at the time). Hadid clarified some things to his followers on his Instagram story on Wednesday, Nov. 7.
"Guys i live too feel im not sad im in a constant wave of emotions :)," he said on his story. He added in another story, "I used to be afraid to feel things cuz i felt as if the feelings of abundant happiness couldn't be obtained forever, but openly feeling is now my only source of inspiration. And now that im not afraid to express my thoughts and feelings i kinda feel like everythings pretty mellow."
Jenner and Hadid have reportedly had an on-and-off fling as far back as 2016. The two were reportedly seen kissing at the 2018 CFDA Awards afterparty in June, and they were also reportedly seen sharing a quick kiss hello at the Harper's Bazaar ICONS party in September. Elite Daily reached out previously to Jenner and Hadid's teams regarding the kissing rumors, but did not hear back by the time of publication.
Dimitrios Kambouris/Getty Images Entertainment/Getty Images
Dimitrios Kambouris/Getty Images Entertainment/Getty Images
Just after their reported makeout session in June at the CFDA Awards afterparty, a source told Us Weekly that Jenner and Hadid were on good terms, but nothing serious. "Kendall and Anwar are totally cool and friendly," the source said at the time. "They even said hi to each other at one point and things weren't awkward or weird in any way. They both respect each other living their own lives without any expectations."
So it seems like Jenner and Hadid are on good (but maybe sometimes hella flirty?) terms, but Hadid might be all ~in his feelings~ about it from time to time.