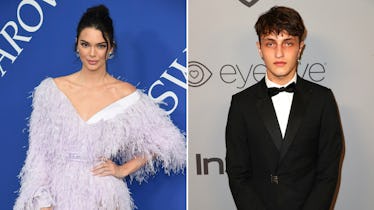 Kendall Jenner Was Reportedly Seen Kissing Gigi & Bella Hadid's Little Brother Again
Dimitrios Kambouris/Joe Scarnici/Getty Images Entertainment/Getty Images
Kendall is one Kardashian (well, Jenner) that I clearly cannot keep up with. The Keeping Up With The Kardashian star and model has always kept her private life on the down-low (a very un-Kardashian-like thing to do), though we've been fortunate enough to get glimpses into her world every now and again when she lets us. Though she's seemingly pumped the brakes on her reported relationship with NBA star Ben Simmons, it looks like she may be getting cozy with someone new — and he's Bella and Gigi Hadid's brother. Yep, Kendall Jenner and Anwar Hadid were reportedly caught kissing again, this time during New York Fashion Week, so things are looking pretty steamy. Elite Daily reached out to both Jenner and Hadid's teams regarding the report, but did not hear back by the time of publication.
Here's what happened: According to Page Six, 22-year-old Kendall Jenner and 19-year-old Anwar Hadid were spotted having a heavy makeout session on Wednesday, Sept. 5 at a Cipriani Downtown party in Soho. A source said that the two models were kissing the entire night, without a care in the world of who was watching.
"Kendall was sitting with Anwar all night and made out with him for quite some time," the source said. "They didn't give a damn who saw them."
This isn't the first time the two were captured getting hot n' heavy, either. Back in June, TMZ published pictures of Jenner and Hadid kissing at a CFDA Awards after-party in New York. Though Jenner reportedly told the publication that it was nothing serious, methinks that there's more to the story than we've been told. Elite Daily reached out to Jenner and Hadid's team for comment on that report but did not hear back by the time of publication.
Or who knows. Maybe Jenner is just Punking us all.
But still, one has to question Jenner's romantic status.
On Aug. 30, a report from E! came out stating that Jenner reportedly called it quits with Ben Simmons, her rumored boyfriends for the last few months. The publication reported that the ~summer romance~ between Simmons and Jenner had sadly come to an end, and a separate report from the news outlet stated that things have "cooled off" between the two, and that Jenner's busy lifestyle was partly to blame — though the pair still text each other despite the fact that Jenner "has been spending time with other people." Elite Daily reached out to Jenner's team for comment on her reported relationship status with Simmons, but did not hear back at the time of publication.
If Jenner is in fact single and ready to mingle, Hadid is a pretty stellar choice if you ask me. I mean, look:
Yeah. He cute.
Bonus points for the fact that Hadid is the brother of Jenner's close friends, meaning if they do end up together for the long haul, she'd make every BFF's dream come true and marry into the family of her friends.
Literal best friends for life!
But let's not expect wedding bells just yet, because E! reported that Jenner isn't looking for a long-term commitment anytime soon:
She always wanted to keep her options open ... Kendall isn't looking for anything serious. She had fun with Ben, but wasn't ever fully committed or looking for a long-term, exclusive relationship.
Well there you have it. Kendall, you do you, boo! Go ahead and kiss (or not kiss) whoever you want.