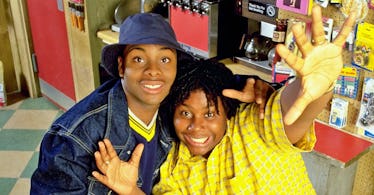 Kenan & Kel Are Reuniting For A 'Double Dare' Episode & It's Going To Be All That
Nickelodeon
Get your orange soda ready, because Nickelodeon's reboot of Double Dare just became an absolute must watch for children of the '90s. The long-awaited revival series premieres on June 25, but if you miss the kickoff episode, you still have a great reason to tune into the series later this summer. Former Nickelodeon stars Kenan and Kel are reuniting for a Double Dare episode, and this special treat is definitely going to be all that. Do they think they'll even break the fourth wall during their Double Dare appearance?
Although TV fans of a certain age primarily recognize Kenan Thompson as a longtime Saturday Night Live cast member, those who grew up on a healthy diet of Nickelodeon's '90s game shows and cartoons first met him as one half of the duo known as Kenan and Kel. Thompson and Kel Mitchell were cast members on the first five seasons of Nickelodeon's sketch comedy show All That, but their comedic chemistry with each other eventually set them on the path to their own Nickelodeon show, Kenan & Kel.
After watching an All That gem like the "Good Burger" skit and its 1997 follow-up movie, it's not difficult to understand why giving the young comics their own show was a perfect decision. I'm not the only one quoting this skit on a regular basis, right?
The sitcom Kenan & Kel debuted in 1996 and ended four seasons later, but the two stars' departure from Nickelodeon brought about a bumpy phase in their friendship. Huffington Post reports that the two lost touch with each other in the 2000s because of busy work schedules and the friends living on opposite coasts. However, Mitchell calling Thompson completely out of the blue in 2015 reignited the iconic partnership. Although we were blessed with a "Good Burger" reunion sketch on The Tonight Show in 2015, the two men competing on Double Dare together is a perfect Nickelodeon-themed homecoming for them.
While original Double Dare host Marc Summers is only returning as a commentator for the revival series, the new show includes YouTube star Liza Koshy as its host. Other than this revamped detail, it seems that the show will remain loyal to its roots. The game show will still feature trivia contests, physical challenges, and the infamous Double Dare giant nose, and Thompson and Mitchell will face off in a match that's bound to be legendary for anyone who grew up watching them.
In a statement about their special appearance, Mitchell said:
I am so excited to be playing on Double Dare and for [a] whole new generation of kids to experience this iconic game show. This episode will be double special because Kenan and I will be playing against each other and we are both huge fans of Double Dare! I can't wait to see the super talented Liza Koshy rock it as the new host!
According to Entertainment Weekly, fellow All That star Lori Beth Denberg will also appear alongside Mitchell and Thompson on Double Dare. The group reunion comes after the three stars popped up together on Nick Cannon's Wild 'n Out earlier this year. If all of those SNL jokes about Thompson leaving the show turn out to be true, I vote for him and his former co-stars to create a full All That reunion series.
There's no word on when in the summer that the special reunion episode will air, but until then, we can look forward to the simple thrill of welcoming the series back to TV. Double Dare premieres on Monday, June 25, at 8 p.m. ET on Nickelodeon.