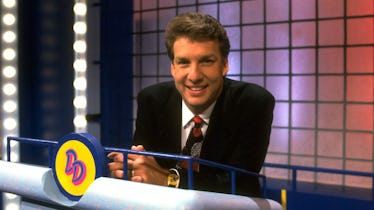 'Double Dare' Has A Brand New Host, But Marc Summers Still Has A Major Role
Nickelodeon
Amidst all of the ongoing news about reboots of beloved TV series, you may have missed the announcement that Nickelodeon game show Double Dare is due to return this summer to its original network. First debuting in 1986 with host and future Food Network star (Unwrapped, anyone?) Marc Summers, Double Dare's contests surrounding around trivia, silly stunts, and the infamous giant nose were quintessentially '90s. The revival series will premiere on Nickelodeon on June 25, but Summers won't headline the show in what would've been the ultimate blast to the past. Instead, a rising YouTube star will take on hosting duties, so who is Liza Koshy?
According to The Hollywood Reporter, Koshy will serve as the official host of the rebooted game show, but Summers will still appear as a commentator providing insight on any of the contestants' high-thrill games. Meanwhile, 22-year-old Koshy will be the one interacting the most with the young players and getting them hyped for the challenges ahead. Finding a great amount of energy as host shouldn't be too difficult for Koshy, as her YouTube channel consisting of funny videos riffing about life currently has more than 14 million subscribers.
I feel lazy just watching one of her speedy, witty videos, which definitely speaks to how energetic she is in front of only one camera. Imagine what she'd do in front of so many others on the Double Dare set alongside the "mayor" of the show, as her hosting announcement video calls Summers.
Working with kids on a game show probably involves a lot of improvisation, and while many of the game shows we grew up watching involved older men trying to get on kids' level, Koshy ought to be way more relatable to the reboot's contestants. I'm far too old to compete on Double Dare, but I already want to go to the dollar store with Koshy after seeing how fun she can make the visit in the video below. If she makes those weird off-brand products sound uncharacteristically amazing, perhaps I won't be as afraid of the show's physical stunts as I was back in the day.
Koshy hasn't been saving all of her creative antics for YouTube recently. She also stars on the Hulu series Freakish, which follows a group of high school students trapped inside the school after a chemical plant explodes nearby. Koshy plays Violet Adams, the object of main character Grover Jones' affection. The show's second season premiered last October, and while it's not exactly Riverdale, the series is fun for anyone who can't help but love teen horror stories.
In a statement about her new job, Koshy, who is also an executive producer of the revival, said:
This is a dream that I have been dreaming to live! From watching Double Dare to hosting it!? I am ready for a summer of slime and nose-picking.
The Koshy-starring series is technically Double Dare's second revival, as the show returned in 2000 after its initial 1993 wrap for a brief stint as Double Dare 2000. After a reunion special honoring the original series' 30th anniversary aired in 2016, more talk of a reboot emerged, and TV executives' current attitude toward revivals (the more, the merrier!) certainly helped move the idea along.
Summers, who is also billed as an executive producer, said in his own statement:
I can't think of many shows like Double Dare that have the ability to bond people together — those who grew up watching the original series can now pass along their love for this game show to today's kids. It's an honor to be a part of this reboot.
He may not be front and center, but I'm thrilled that the new Double Dare will still include a nod toward Summers' importance in the series. I can't wait to see the old embrace the new when he and Koshy work together in the 40-episode first season.
Double Dare premieres on Monday, June 25, at 8 p.m. ET on Nickelodeon.