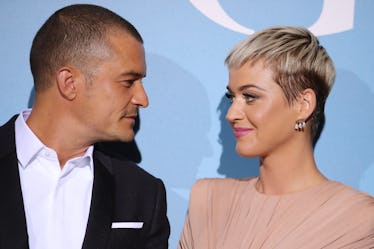 Katy Perry Did The Cutest Thing When Orlando Bloom Auctioned A Date With Him For Charity
Andreas Rentz/Getty Images Entertainment/Getty Images
OK, whoa. I know we're all pretending we "don't know what's going on with Orlando Bloom and Katy Perry" but I'm officially calling BS. Clearly, something is going on. The two have a serious romantic history and Perry just outbid a true fan for a date with Bloom, who Perry refers to as "her man." So, like, let's all be real. Katy Perry's reaction to Orlando Bloom auctioning a date for charity is really cute, a lot sassy, and definitely has me catching real romance vibes.
Let me set the scene. Perry and Bloom were participating in the One Love Malibu benefit show designed to raise money to support those affected by the Woolsey wildfire. According to Billboard, Perry was there to perform her hits "Roar," "By The Grace of God," and "Firework," and apparently to auction off a date with "her man." Perry broke down exactly what fans would be bidding on, which included a motorcycle ride and lunch with Bloom. TBH, it seems like lunch wasn't actually part of the deal and Perry accidentally brought it up, resulting in her and the auctioneer throwing it in. Hilare.
There were just a few key details Perry really wanted to impress upon those bidding. She emphasized the specifics around the motorcycle ride, describing how the lucky winner would be riding on the back as passenger as Bloom drove. This means they would be in such a position where they could feel his pecs and abs, which Perry stressed were very impressive. As she was describing the passenger's position, it seemed she was simultaneously realizing the gravity of what she was saying, which was someone else would be up close and personal with Bloom.
"You're holding him in a way that I am not excited about," she realized, adding, "You're holding his pecs and his six-pack, and it's so glorious! You get to hold on to Orlando for about 45 minutes… and then, you get to stare into his brown eyes!"
Here she is breaking down the specifics of the date:
Later, as the bidding began, a fan named Laura called out that she would buy the date at a whopping 20,000 thousand dollars. Perry and the auctioneer tried to get the rest of the crowd engaged, looking for 25,000 dollars, to no avail. Just when you thought the incredible prize was going to Laura, Perry derailed the whole thing.
The auctioneer was about to call it when Perry stopped him. "No!" she yelled. Then, she addressed the fan, "I'm sorry, what was your name one more time? Laura? Laura, I'm sorry. I'm buying it for $50,000."
Literal. Mic. Drop. Literally, she dropped the mic and stomped away. Whoever was filming the whole thing echoed all of our sentiments exclaiming, "Oh my god."
You can watch the whole sassy moment here:
OK. So my immediate thought is, "Well, dang. Just let the fan (who brought $20,000 dollars to go on a date with Orlando Bloom) win." But then I was kind of like, "It's cute, though."
It's totally possible Perry was looking to donate more money to the cause and wanted to make note of the fan's name so she could give her the prize later, but who knows.
Anyway, Orlando and Katy. I see you.