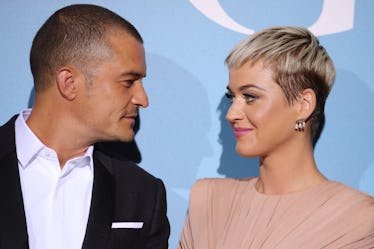 Katy Perry Just Explained Exactly Why She's So Compatable With Orlando Bloom
Andreas Rentz/Getty Images Entertainment/Getty Images
Katy Perry and Orlando Bloom are officially back together. The on-again, off-again couple made their first joint red carpet appearance together in Monaco on Sept. 26, and now she's talking about their relationship in interviews, saying they work so well partly because he's such a "great anchor" for her. Katy Perry's comments about Orlando Bloom make little room for doubt that these two just go well together.
In an interview with Footwear News, Perry said she's been able to focus the last year of her life on improving her mental health and focusing on giving her life security and balance — things she credits her family and Bloom for helping her accomplish. "I've done a lot of work lately in the past year on my mental health, on my spiritual and emotional side," she said. "Now I've been trying to find the balance and not overindulging, just trying to stay grounded. My sister lives right next door to me, and my family is not really fazed by anything. They're proud of me, but they don't put me on a pedestal — everybody is pretty normcore."
She continued, "My boyfriend, [Orlando Bloom], is a great anchor. For some reason, I attract people who are really real and call me out on stuff when I'm being cuckoo."
Things are so good between the two that marriage is reportedly a possibility.
According to People, wedding bells could definitely be in the future for the couple. "Orlando doesn't have a ring yet but has been talking about the future," a source told the outlet. Elite Daily reached out to Perry and Bloom's teams for comment at the time, but did not hear back by the time of publication. "Everyone would be excited if they got engaged," the source continued. "Katy is wonderful!" The source also commented on Bloom's former marriage to Miranda Kerr, with whom he shares a son, Flynn. "He always said he would absolutely get married again," the source said, "and it seems Katy could be it... They both seem very happy."
The couple has reportedly been back together for months, with rumors of a rekindled romance starting back in April when they went to Rome together and met the Pope. (Yes, Katy Perry and Orlando Bloom met the Pope.) A source previously told Entertainment Tonight that breaking up was a necessary step for them. It reportedly took breaking up to realize that what they needed for their relationship to thrive was privacy, hence them keeping their getting back together under wraps. "They both agreed that one of the main reasons for their last split was the pressures of constantly being in the public eye and not taking the time alone to just be together," the source revealed. "Katy wants to make sure they are seeing each other as much as possible despite both having busy careers," they said, "so she meets with Orlando wherever he is working and she expects the same from him. They have an understanding now of each other and what will make this work."
It looks like these two have put in the work to make their relationship a strong one.
Perry told Footwear News that she now plans on just relaxing and living her life following the conclusion of her Witness tour. "I've been on the road for like 10 years," she said, "so I'm just going to chill. I'm not going to go straight into making another record." She continued, "I feel like I've done a lot. I feel like I've rung the bell of being a pop star very loudly, and I'm very grateful for that." This time to chill will no doubt give her and Bloom the time and space they need to keep their relationship as grounded as they've made it so far.