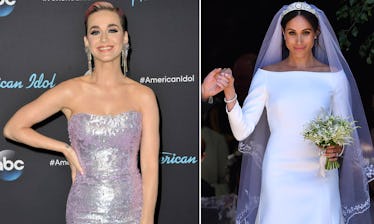 Katy Perry Just Threw Shade At Meghan Markle & I'm Not OK With It
/Getty Images Entertainment/Getty Images; Ben STANSALL - WPA Pool
This week the world is playing catch-up after spending the whole weekend royally partying. Prince Harry, Duke of Sussex, and Meghan Markle, Duchess of Sussex, tied the knot under some of the most extreme wedding circumstances and are officially husband and wife. It seems everyone on the planet tuned in to catch their "I Dos" and to ogle Meghan's stunning gown. Well, mostly everyone was ogling. Some people were judging. Like, American Idol judge Katy Perry, for example. Katy Perry shaded Meghan Markle over her wedding dress during a recent interview and obviously raised a few eyebrows.
Entertainment Tonight caught up with Perry and her fellow American Idol judges, Lionel Richie and Luke Bryan, to talk over their royal wedding opinions. Perry openly admitted she doesn't know much about Meghan, but did praise her for all of her philanthropic and feminist work. First, she told cameras, "I don't know much about her, but what I've seen or heard, whether it's been true or false, everything to me, it sounds amazing. I'm so happy for them."
Perry added,
It's amazing what she's doing with all this, her humanitarian efforts. You know, the fact that she's a proud feminist, I love all that. So, I support her as another woman and love her and wish them both well.
Well, that's all lovely, but what did Perry think about the dress? With a smile, she said, "I would have done one more fitting."
Gee, Katy. Tell me how you really feel.
Perry continued, "Kate, Kate, Kate won, Kate won! I'm sorry. I'm never not going to tell the truth! One more fitting, but I love you."
K... watch her comments below.
The truth is, whether three-quarter-length sleeves and boatneck tops are your thing, you've got to admit: Meghan looked stunning. The simplicity and elegance of her all-white gown, designed by Clare Waight Keller for Givenchy, was literally fit for a princess. And if the dress wasn't your style, certainly the tiara and veil had to be.
According to a statement released by Kensington Palace, the veil had a lot of powerful, hidden meaning to Meghan. She told Clare Waight Keller she wanted all 53 Commonwealth countries represented in her cascading headpiece. To accomplish this, Keller incorporated flora and fauna detailing from all 53 separate geographic locations on the veil.
The statement explained the specifics:
Ms. Markle expressed the wish of having all 53 countries of the Commonwealth with her on her journey through the ceremony. Ms. Waight Keller designed a veil representing the distinctive flora of each Commonwealth country united in one spectacular floral composition.
... Significant time was spent researching the flora of each Commonwealth country and much care was taken by Ms. Waight Keller to ensure that every flower is unique.
... Each flower was worked flat, in three dimensions to create a unique and delicate design. The workers spent hundreds of hours meticulously sewing and washing their hands every thirty minutes to keep the tulle and threads pristine.
So take that, Perry.
And for that freaking tiara? No big deal. It was just lent to Markle by the Queen herself and once belonged to Queen Mary. According to Kensington Palace's statement, the diamond bandeau was made in 1932 but the center brooch dates back to 1893.
When was the last time you wore something from 1893, Katy?
The truth is, whether you loved to hate or hated to love Meghan's gown, it doesn't really matter what you think. She's the freaking Duchess of Sussex now, y'all, and can wear whatever she damn well pleases. (Ya know, as long as the Queen approves and everything.)
Check out the entire Gen Why series and other videos on Facebook and the Bustle app across Apple TV, Roku, and Amazon Fire TV.