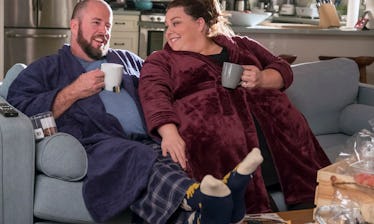 Chrissy Metz Reveals Her Hardest 'This Is Us' Scene To Film & It's Surprising – EXCLUSIVE
NBC
This Is Us returned to screens for its midseason premiere on Jan. 9, following three major Golden Globes nominations and one big win for Best Actor In A Drama TV Series for Sterling K. Brown. The show was nominated for Best TV Drama and Chrissy Metz was recognized in the Best Supporting Actress in a Series, Miniseries, or Motion Picture for TV category for her groundbreaking role as Kate Pearson. Elite Daily had the chance to speak with Chrissy Metz at the 75th Annual Golden Globes red carpet about her experience with Kate's scenes on This Is Us and what it's really like to film those grab-your-Kleenex moments.
When asked what the most difficult scene to film was, Metz pondered for a moment before revealing her answer:
Oh goodness, I think one of the hardest was when Kate and Toby broke up in the first season, because it was really about her drawing her boundaries and it wasn't because she didn't love him. It was that she needed to love herself more. And that's really such a beautiful message that the writers bring to the audience in a very subtle way... I've had so many people come out and say, 'My gosh you helped me stand up for myself.' And it wasn't because she [Kate] had to, but because she needed to for herself so that was probably the hardest one.
Back in Season 1, we watched Kate fall in and out of her relationship with Toby. Their relationship began with a mutual desire to start living healthy lifestyles, and it slowly broke down when Toby abandoned the over-eaters support group where the couple first met.
Echoing Metz's statement, the clip above shows that Kate didn't break up with Toby because she didn't love him, she did it for her own wellbeing. At this point in the show, Kate was dedicated to changing her life. She craved support and required willpower to succeed, and Toby's sudden change of heart threw her off track. For the first time, audiences saw Kate put herself first and watched it ignite a new, more determined side of her.
There's clear pain in Kate's voice while she tries to articulate the breakup. As fans now know after the Season 2 mid-season premiere, Kate's history with food is complicated and emotional. Her "addiction to food," as Kevin calls it, is linked to Jack's death. Audiences watched flashback after flashback of Kate and her father eating sweets together, laughing, and enjoying life, while her mother encouraged her to eat less junk food.
It's clear now that there is even more to it than meets the eye and Kate's unhealthy relationship with food goes much deeper than the audience realizes.
Kate's issues on the show touch different people in different ways; but while her experiences are unique, the overarching message of self love is universally relatable. Although she is complicated, messy, emotional, and broken in many ways, Kate's character delivers a sense of wholeness and reassurance to fans who see themselves in her. And just as the other characters on the show do, Kate delivers something network TV really hasn't seen before.
As Metz told Entertainment Weekly,
I love that it's not like, 'Oh, here's a plus-size girl just sitting in the corner, wishing her life would start.' She's actually living her life, and all of these really exciting things are happening, and it's really nice. Because I don't think it's been portrayed — well, really anywhere. Especially network television.
This Is Us' near-instant success is because of its characters' complicated story webs. With such complex emotion and such spectacular acting, fans find it difficult to not relate to at least one character.
Kate's story continues on This Is Us Season 2 on Tuesdays at 9 p.m. EST on NBC.