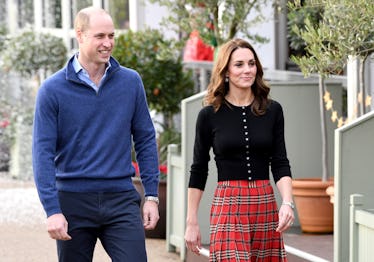 Kate Middleton Calls Prince William A "Nightmare" For This One Pet Peeve Of His
Stuart C. Wilson/Getty Images Entertainment/Getty Images
What's your biggest pet peeve? Mine is — by far — getting crumbs in the bed. Nothing disgusts me to my core more than people eating in bed, only to lie in their crumbs until they decide to do laundry again. Ew, I'm getting chills just thinking about it. But I'm a mere commoner. I would never think royals would have pet peeves as I do. Well, it turns out they do. And Kate Middleton's reaction to Prince William's bad habit literally could not be more perfect.
While on a recent trip to Cyprus, where People reports the royal duo officially opened the Oasis recreation center as a means of cheering up military members who won't be able to spend the holidays with their families, Prince William revealed a habit of his that his wife could do without.
Some backstory here: The Oasis recreation center just so happened to have yellow sofas, which reportedly reminded Prince William of the yellow sofas he and Kate share at home. For most of us, seeing a couch that reminded us of the couches we have at home would probably be no big deal. But, for for Prince William, the couches were a reminder of his own behavior... which, appears to be getting food on the couches.
People reports he joked with the men to "keep the pizza off the sofas!" If Prince William told me to keep my pizza off the sofa, I would all but poop my pants. The future King of England just gave me a direct order! How could I not be terrified?!
But, according to People, Kate immediately knew her husband was simply making a joke about their home because she quickly responded, "You're a nightmare with that!"
Yep, that's right. She jokingly called Prince William, the future King of England, a nightmare. OK, he also happens to be her husband. But still. Big league move out of her, if you ask me.
There are a few things I love about this exchange and I'll break them down for you here.
First and foremost, I love the fact that Prince William is a normal human being who has a messy habit and is willing to laugh at himself about it.
Second, I love that he's married to a strong woman who isn't afraid to call him out.
Finally, I love that, even after three children and seven years of marriage, the two still manage to clock in a little bit of flirty banter.
Prince William isn't the only British royal with a strange pet peeve. His brother, Prince Harry, also recently revealed he has an interesting habit that his wife could do without. In BBC's new documentary, Prince, Son and Heir: Charles at 70, the Duke of Sussex admits that he has a weird obsession with turning off the lights.
"My wife certainly goes, 'Well, why turn the lights off? It's dark,'" Prince Harry said in the documentary. "I go, 'We only need one light, we don't need, like, six,' and all of a sudden, it becomes a habit."
Honestly, kudos to William for being aware of his messy eating habits and kudos to Harry for trying to be environmentally conscious... but I think they both could afford to ease up a little bit, at least for the sake of their wives.