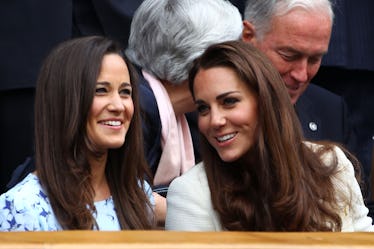 Kate Middleton Just Spoke Out For The First Time About Her Sister Giving Birth
Clive Brunskill/Getty Images Sport/Getty Images
Some pretty spectacular news going on in the royal world today: Kate Middleton's sister, Pippa Middleton, reportedly gave birth on Monday, Oct. 15, which means that we not only got to enjoy a royal wedding last week (thanks Princess Eugenie!), a royal pregnancy announcement (thanks Meghan and Harry!), and now, a baby that makes Kate Middleton a royal new aunt! Elite Daily reached out to the palace for confirmation regarding the report of Middleton giving birth, but did not hear back by the time of publication. And, like any good sister, Kate Middleton's reaction to Pippa giving birth will warm your heart.
According to People, Pippa Middleton gave birth to an almost 9-pound baby boy (which sounds like a feat in itself), and older sister Kate is beaming with happiness over her new nephew.
Speaking on behalf of Kate Middleton and Prince William, Kensington Palace released a statement over the news:
The Duke and Duchess of Cambridge are thrilled for Pippa and James.
And Pippa's birth of her baby boy couldn't have come at a better time, considering her due date fell dangerously close to the royal wedding of Princess Eugenie and her now-husband, Jack Brooksbank. But luckily for the world, Pippa and her husband, James Matthews, were able to attend, despite the fact that Pippa was just days away from giving birth, looked absolutely breathtaking in an emerald green ensemble designed by Emilia Wickstead:
Have you ever seen someone so close to their due date looking so lovely? Because I'm pretty sure I'd be a hot mess in sweatpants when I get to be that far along in a pregnancy.
There was some speculation going on that Pippa was pregnant back in April 2017, right before Kate Middleton gave birth to her third child, Prince Louis. When Pippa did confirm the rumors that she was expecting her first child, she did so by writing a fitness column for the UK's Waitrose magazine. The piece, entitled "Exercising During Pregnancy," was about the excitement and challenges of the first trimester, and about the safety and precautions that come with exercising while pregnant. She wrote in part,
I'm fanatical about sport and have looked at loads of books and websites on exercise during pregnancy but have been disappointed by the limited technical information on what you can and can't do. This being my first pregnancy, I had so many questions I felt were still unanswered. I wanted to know things like, would I strain if I served in tennis, are strokes of swimming safe, can I still do a normal yoga class if I avoided certain positions? Could I still work my abs?
Pippa went on to explain that, because her pregnancy was kept under wraps, she wasn't able to confide in her fitness instructors for any advice, and instead created her own workout routines to adjust what felt alright for her body.
"That meant I was able to carry on as normal and continue most of my sports," she wrote. "I've noticed my body change and weight increase, but through effective exercise and sports, I feel it's being strengthened to support a healthy pregnancy, birth, and recovery. And ensure that post-baby, my old favorite jeans will still fit... eventually!"
A huge congratulations to Pippa and her husband, James! But just a word of advice: Pippa, your old favorite jeans will fit you again, but for the moment, maybe put on some sweatpants and relish in all the excitement that a new baby brings. They're life-changing in the best way (and I mean that for both the sweatpants and the tiny human you created).