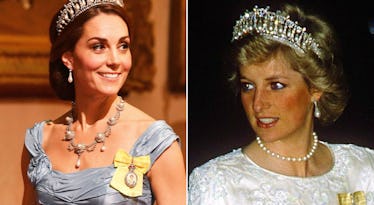 Kate Middleton's Outfit At The State Banquet Featured The Most Touching Nods To Princess Diana
WPA Pool/Getty Images News/Getty Images // Nils Jorgensen/Shutterstock
Wearing a late relative's item of clothing is such a touching form of love and respect, it's almost hard to put into words how much it can really mean. Recently, Kate Middleton wore Princess Diana's Lover's Knot Tiara (one the late Princess' loved dearly) and it's essentially the ultimate show of affection and remembrance. Honestly, it has me in tears just thinking about it.
At a state banquet at Buckingham Palace on Tuesday, Oct. 23, Middleton dazzled in a light-blue Alexander McQueen gown, a glass brooch with a yellow bow, and Princess Diana's favorite tiara, the Lover's Knot. Also referred to as the Cambridge Lover's Knot, the tiara is a famous piece worn by Diana often, and, for many of Diana's fan, is somewhat of a symbol for her time as Princess of Wales from 1981 to 1997.
The Lover's Knot tiara had been loaned to Diana as a wedding gift from the Queen of England, according to Town & Country. However, Diana opted to wore her own family heirloom tiara, the Spencer tiara, instead. PEOPLE also reports that the tiara wasn't seen after Diana's passing until 2015 atop none other than Middleton's head.
More than a century old, the Lover's Knot tiara has been worn by Middleton several times at various royal occasions, and perhaps could become a favorite of hers, too. Not only did Middleton rock Diana's fave piece at the state banquet, but she also wore Diana's pearl drop earrings, complementing the pearl drop tiara perfectly.
It seems Middleton couldn't stay away from the royal vintage pieces, and decided to also wear a 150-year-old necklace, which one royal blogger claims was once owned by Queen Alexandra, per Town & Country. Made with pearls and diamonds, the necklace was reportedly given to Princess Alexandra of Denmark from Albert Edward, Prince of Wales, as a wedding gift in 1863.
Of course, the Lover's Knot tiara was the star of the show, and Middleton has worn the piece at least four times since it reappeared in 2015. She was the first to show it off again when she wore it to the annual Diplomatic Reception at Buckingham Palace in 2015. Then, she wore it again to the Diplomatic Reception in 2016, and also to a state banquet in 2017, when King Felipe and Queen Letizia of Spain came to visit the United Kingdom.
Middleton isn't the only one to pay tribute to Princess Diana through jewelry, though. Meghan Markle has been seen sporting various jewels from the late Princess, too. On a recent trip to Sydney, Australia, after news broke about her pregnancy, Markle was seen wearing Diana's pair of butterfly earrings and her gold bracelet during the trip. On her wedding day, Markle also chose one of Diana's iconic blue bauble rings as her "something blue" for the big day. Since Markle's style seems to be pretty classic and minimal, I'm curious to see if (and how) she will choose to incorporate some of Princess Diana's more extravagant (and flashy) jewelry into her outfits.
While I personally would be extremely nervous walking around town with these incredibly expensive, iconic, and fragile pieces of jewelry, Middleton and Markle have been wearing them with beauty and grace, and I can only imagine how proud Diana would be to see them both taking on the duties of the royal family so well.