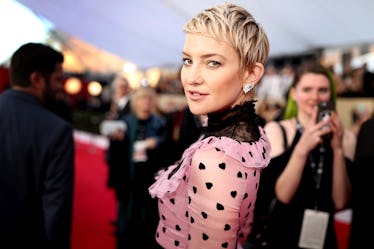 Kate Hudson Is Pregnant & She Just Announced It In The Most Adorable Way
Christopher Polk/Getty Images Entertainment/Getty Images
While I've been sitting here refreshing Instagram every two seconds waiting for Khloé Kardashian to announce that she's finally given birth (don't judge), another celeb just dropped by to casually blindside her fans with some pretty major pregnancy news. After flying under the radar for the last few months, it turns out Kate Hudson is pregnant and having a baby girl! And you have to see the awesome video announcement she posted to Instagram on April 6, because it really is all happening for the goddess who gifted the world with Penny Lane, and I seriously cannot contain my excitement.
But before I get to that adorable gender reveal clip, let's take a look at what the Almost Famous star had to say over on Instagram when she shared the incendiary news.
SURPRISE!!! If you've wondered why I've been so absent on my social channels it's because I have never been more sick! It's was the most sick first trimester of all my children. Boomerangs have made me nauseous, Superzoom is an easy way to have my head in the toilet, food instagrams make me queezy and thinking too much about insta stories made me even more exhausted than I already had been.
Talk about a mic drop! And too nauseous for Superzoom? Who even knew that was a thing? Hudson then went on to add:
If you've seen me out and about smiling and pretending like everything is amazing...I was lying! BUT! I have broken through on the other end of that and rediscovering the joys of insta/snap. We have been trying to keep this pregnancy under the radar for as long as possible but I'm a poppin now! And it's too darn challenging to hide, and frankly hiding is more exhausting then just coming out with it! My kids, Danny, myself and the entire family are crazy excited! A little girl on the way 💕
Danny, of course, is Hudson's boyfriend, Danny Fujikawa, a musician and guitarist who was most recently part of the now-defunct band Chief. He's also the founder of Lightwave Records. The pair has reportedly been dating since March 2017, and this will be their first baby together. The new addition will be the third kiddo for Hudson, who already has 14-year-old son Ryder with Chris Robinson, and 6-year-old Bingham with Matt Bellamy. But even so, it's just all so freaking exciting because after giving birth to two boys, the actress' third blue jean baby is finally going to be a girl!
Now here's that amazing gender reveal video I was talking about, since I feel like I've kept you waiting long enough. It's worth it though, trust me:
Look how happy Hudson looks! Plus, her dress is straight fire. I could legit watch this clip of her gorgeous fam all day, couldn't you? I mean, how cute are Ryder and Bingham? This little baby girl is going to be so lucky to grow up with two big brothers who always having her back. Is it weird to be jealous of an unborn fetus? Asking for a friend.
I do have a serious question about this vid, though (besides what's up with that arm sling?): Where on earth is Goldie Hawn? Like, why isn't she there holding up one of those massive balloons? Hudson and Hawn are such a tight mother-daughter combo that I can only imagine how excited she is for her own baby girl to finally be able to experience the same type of bond.
Meanwhile, Hudson's fans are already so excited over the baby girl news, that they are currently blowing up my Twitter feed.
Same. Hudson already seems like one of the dopest moms on the planet and I seriously cannot wait to see how incredible she's going to be once her tiny dancer arrives. Congrats, girl!