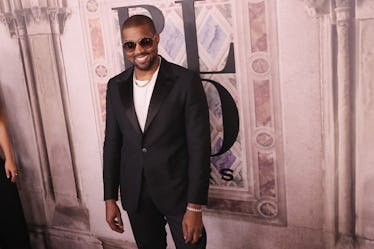 Kanye West Just Hinted Another Album's On The Way Just Months After 'Ye' Came Out
Rob Kim/Getty Images Entertainment/Getty Images
World, are you ready for more Kanye West in your life? We've been hearing tons of new music from the "Ghost Town" rapper recently, and I can't say that I hate it. After the release of his solo LP, Ye on June 1, 2018, and the release of his collaborative album Kids See Ghosts with Kid Cudi just one week later, we're now seeing that there may be more music in store for us from Yeezy already. The most recent hint that the hip-hop star gave us came from Twitter, and Kanye West's tweet teasing a new album has everyone getting pretty pumped.
On Sept. 17, Saturday Night Live took to Twitter to reveal that Kanye West would be the musical guest for the premiere of its 44th (!!!) season. The picture that was posted alongside the news depicted colorful index cards tacked to a cork board, and showed the date that West would make his appearance. That in itself if pretty exciting news, but it got even better when Mr. West responded to SNL's tweet, but used a slightly different image. The image that West used showed the same index cards and date, but instead of his name, it simply said "Yandhi."
Who or what is "Yandhi?" What does this all mean? Well, many fans are thinking that West is dropping a hint that he's making more music for his fans, and I, for one, am elated.
Here's Saturday Night Live's tweet:
And here's Kanye West's tweet:
So, does this mean that Yeezy has another album that we should be anticipating?
From the looks of it, yep!
And not only that, but it seems that Yandhi might actually be a follow-up album to West's 2013 album, Yeezus, considering West tweeted out yet another image that bears an uncanny resemblance to the Yeezus album cover, alongside what seems to be a release date of Sept. 29:
While there hasn't been any concrete information yet, it seems like Kanye West has to have something up his sleeve... and all the arrows are pointing to that "something" being a new album, which would make it his ninth solo studio album to date.
Naturally, fans are taking to Twitter to speculate whether or not Kanye West will be putting out new music or not, and, if he is, what exactly "Yandhi" stands for:
The past few months have been somewhat interesting for the rapper — like opening up about his bipolar disorder and apologizing for his comments regarding slavery — and I feel like maybe an upcoming album signifies West turning over a new leaf in both his personal life and his professional one.
He's even shown love to others in the rap game recently, and has publicly tried to quash his beef with rapper Drake. On Sept. 5, he sent out a series of tweets apologizing to the "In My Feelings" rapper, and said he was sending "good energy and love" to Drake:
Sending good energy and love to Drake and family and crew I haven't seen the show in person but the images look incredible online I understand where the confusion started
Does this mean that the world might be seeing a more humbled Kanye?
I don't have an answer for you on that one, but I will say that I'm pretty excited to see where all of this goes.