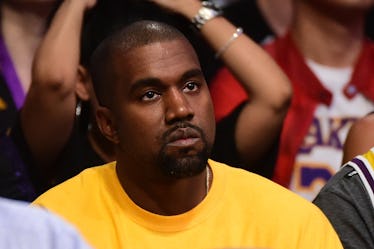 Kanye West Said He Never Said Slavery Was A Choice & I'm Done
Harry How/Getty Images Entertainment/Getty Images
Kanye West's "slavery was a choice" debacle may have been weeks ago, but the drama is still in full swing. The Adidas designer opened up about his remarks in a new interview with The New York Times, and Kanye West's response to his slavery comments might even be worse than before. Seriously, I challenge you not to cringe while reading.
West sparked immediate and widespread criticism after suggesting slavery was a "choice" in an interview with TMZ on May 1. But in a June 25 interview with the Times, he attempted to defend himself against the backlash and clarify his comments, claiming his words were taken out of context. He said:
I said the idea of sitting in something for 400 years sounds — sounds — like a choice to me, I never said it's a choice. I never said slavery itself — like being shackled in chains — was a choice. That's why I went from slave to 400 years to mental prison to this and that. If you look at the clip you see the way my mind works.
Although he stood by his ideas, West did, at least, try to offer up somewhat of an apology, adding, "What I will do is I'll take responsibility for the fact that I allowed my voice to be used back to back in ways that were not protective of it when my voice means too much."
OK, so in translation: he never said slavery itself — like being shackled in chains — was a choice, but the idea of "sitting" in enslavement for 400 years sounds like a choice... as if people still weren't shackled and/or brutally punished when trying to escape. Someone make it make sense.
West originally made his comments during an appearance on TMZ on May 1. Speaking to host Harvey Levin, the ye rapper said:
When you hear about slavery for 400 years. For 400 years?! That sounds like a choice. Like, you was there for 400 years and it's all of y'all!?
After making his comments, West asked if anyone in the newsroom thought he was "thinking free" (a concept West has frequently championed on and off social media). And at that point, Van Lathan, an employee of TMZ, offered up a brutal rebuttal. Lathan told the rapper he actually didn't think West was thinking "anything." TBH, the impassioned remarks are pretty much everything I personally wanted to say to Kanye in that moment. (And even now.)
Lathan wasn't the only one who apparently criticized West for his comments, though. In fact, the rapper revealed that he and his wife, Kim Kardashian, had gotten into a fight over the remarks in one of his new songs from his eighth studio album ye, released on June 1.
In the track, titled "Wouldn't Leave," West raps:
They say, 'Build your own'—I said, 'How, Sway?' / I said, 'Slavery a choice'—they said, 'How, 'Ye?' / Just imagine if they caught me on a wild day / Now I'm on fifty blogs gettin' fifty calls / My wife callin', screamin', say, 'We 'bout to lose it all!' / Had to calm her down 'cause she couldn't breathe / Told her she could leave me now, but she wouldn't leave.
Kardashian later opened up about the fight on June 4 at the 2018 CFDA Fashion Awards, telling Entertainment Tonight: "Did I talk about it? Did I scream about it? Did I cry about it? Did I fight about it? Yeah."
She continued:
That's not stuff we put on social media — I'm not going to start tweeting what my thoughts are, but we have those moments ... we have different views sometimes, but that's my husband, you know?
Good for her sticking by her man, I guess.
His latest clarification doesn't seem to really make things any better, though, if you ask me. So, moving forward, it might be in West's interest to leave these comments in the past. (Like slavery — which, again, wasn't a choice.)