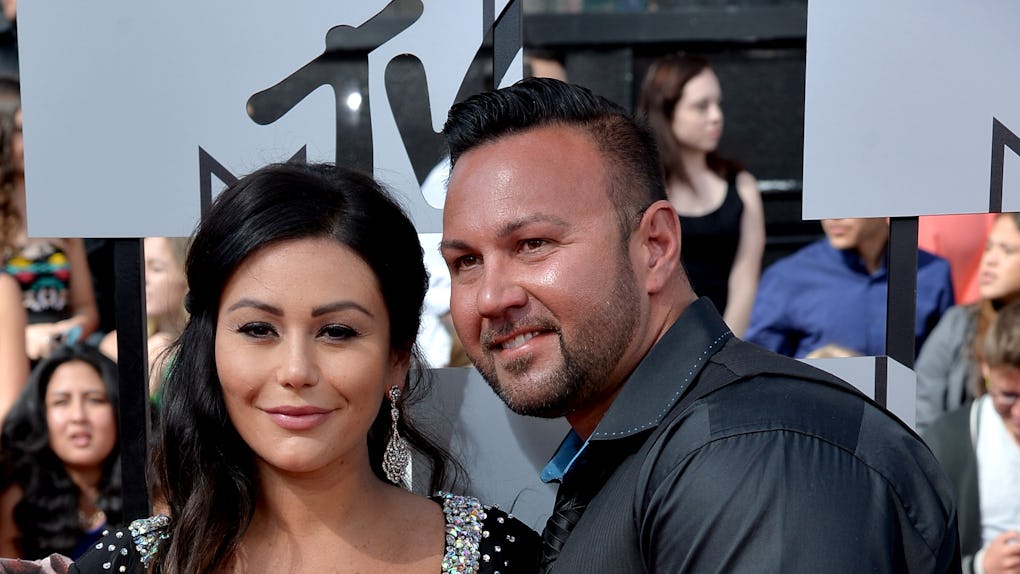 Michael Buckner/Getty Images Entertainment/Getty Images
JWoww & Roger Mathews' Body Language Before Their Split Shows They Care About Each Other
I remember when the very first episode of Jersey Shore aired. It was unlike anything I had ever seen before, and I was instantly hooked. Even among the cast of big personalities, Jenni 'JWoww' Farley was a standout. And although she professed to being a player, it was obvious that when she and Roger Mathews began their relationship, their love was real. So when I first heard that Farley had filed for divorce, I was shocked. There didn't seem to be any signs, even in JWoww and Roger's body language before their split, that they were in a bad place in their relationship.
Here's a quick rundown on Farley and Mathews, in case you haven't been following along. The couple first met back in 2010 when Farley was still filming Jersey Shore. They welcomed their first child, Meilani Alexandra, in 2014 and were married the following year. In 2016, they welcomed their second child Grayson Valor, and from all appearances, the couple was happy and on good footing. Then, seemingly out of the blue, Farley filed for divorce on Sept. 14 2018, citing irreconcilable differences. But it seems like Mathews isn't ready to give up on the marriage. The day after Farley filed, he took to Instagram and posted a video where he opened up about the state of his marriage and declared he was still in the fight to save it, saying:
My wife filed for divorce, it's true, I don't blame her. There's no cheating or any dumb s— or any juicy details. She just grew tired of the repetitive pattern that we fell into… and [it was] not a good one.
Here's what's also true: I'm not done fighting... I'm gonna win my wife back; I'm gonna win her affection back; I'm gonna win her love back. I have no intentions of being a single dad. We're in counseling, so there is hope.
It seems there might indeed be hope for the two, as they were seen out together with their daughter on Oct. 1 at the Disney Junior Dance Party show. (I'm sorry, but that's just adorable.) The question is: Where do they stand now? Until they dish the tea, we won't know for sure, but we can get some insight into their dynamic with the help of body language expert Blanca Cobb. I asked her to analyze photos of the two of them over the years to see how their relationship has changed, and what it can tell us about their present and their future. Here's what she had to say.
April 2014
This photo, taken on the red carpet of the MTV Music Awards, shows the couple in a much happier time when Farley was pregnant with their first child. Here, Cobb sees a couple united around their growing family. "JWoww and Roger are both holding what's most dear to them: their baby," she tells Elite Daily. She also sees that Mathews takes his role as a protector very seriously, saying, "Her hand underneath her baby bump is supporting while his is territorial. Even though he's standing sideways, Roger is encasing JWoww's body signaling that's he's protective of her and their baby."
September 2015
Here we see Mathews and Farley joined by her friend and Jersey Shore co-star Nicole 'Snooki' Polizzi (and family) to celebrate a birthday party, but despite the celebratory vibe, Cobb sees that there is some level of disconnect between Mathews and Farley. Cobb points to how "He's leaning toward her while she's sitting straight up." But it's not all bad news for the couple, as Cobb also notes that "even though they're not touching, the way she has her legs crossed signals that she's feeling pretty good."
September 2016
The following year, Mathews shared this image of the two of them at a friend's wedding, and again, Cobb sees a united front with Mathews taking on a supportive role. She sees this in the way they're standing, saying, "With their sides touching and her chest pressed against his, JWoww and Roger are maintaining a connection. With his shoulder slightly behind hers, it signals that he's supportive of her."
May 2017
While the couple is being affectionate in this photo, Cobb is still not overly impressed with the PDA. "This isn't much of kiss. Those big puckers don't allow for an intimacy that you'd expect from a couple," she says. Cobb also notes the distance between them, saying "look at how far away they're standing from each other ... JWoww's drink serves as a psychological and physical barrier between the two of them."
April 2018
In this final image, taken at MTV's Jersey Shore Family Vacation premiere party in New York, Cobb sees conflicting signs in the couple's body language, which make sense now in retrospect. She says, that "even though there's a bit of a physical distance between the two of them, Roger still has his shoulder behind JWoww, which signals that he's a support for her." And it's not just Mathews who's working to create the impression of a unified front. Cobb points out "the way JWoww has her body angled toward Roger. You only do this when you have an attachment or a connection to your partner."
Taken together, what does all this mean for Farley and Mathews' marriage? Is there hope for the future? Will Mathews be able to win his wife back like he intends to? While only time will tell, Cobb's overall analysis does leave some hope for the future, but not as much as I was hoping for. She says simply, "JWoww and Roger care about each other. It just may not be enough to maintain a relationship." Well, until that divorce is final, I'm going to keep the hope alive.