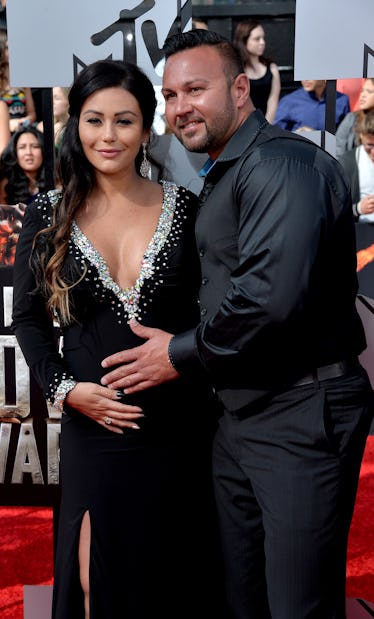 JWoww & Roger Mathews' Body Language Before Their Split Will Break Your Heart
Michael Buckner/Getty Images Entertainment/Getty Images
I remember when the very first episode of Jersey Shore aired. It was unlike anything I had ever seen before, and I was instantly hooked. Even among the cast of big personalities, Jenni 'JWoww' Farley was a standout. And although she professed to being a player, it was obvious that when she and Roger Mathews began their relationship, their love was real. So when I first heard that Farley had filed for divorce, I was shocked. There didn't seem to be any signs, even in JWoww and Roger's body language before their split, that they were in a bad place in their relationship.
Here's a quick rundown on Farley and Mathews, in case you haven't been following along. The couple first met back in 2010 when Farley was still filming Jersey Shore. They welcomed their first child, Meilani Alexandra, in 2014 and were married the following year. In 2016, they welcomed their second child Grayson Valor, and from all appearances, the couple was happy and on good footing. Then, seemingly out of the blue, Farley filed for divorce on Sept. 14 2018, citing irreconcilable differences. But it seems like Mathews isn't ready to give up on the marriage. The day after Farley filed, he took to Instagram and posted a video where he opened up about the state of his marriage and declared he was still in the fight to save it, saying:
My wife filed for divorce, it's true, I don't blame her. There's no cheating or any dumb s— or any juicy details. She just grew tired of the repetitive pattern that we fell into… and [it was] not a good one.
Here's what's also true: I'm not done fighting... I'm gonna win my wife back; I'm gonna win her affection back; I'm gonna win her love back. I have no intentions of being a single dad. We're in counseling, so there is hope.
It seems there might indeed be hope for the two, as they were seen out together with their daughter on Oct. 1 at the Disney Junior Dance Party show. (I'm sorry, but that's just adorable.) The question is: Where do they stand now? Until they dish the tea, we won't know for sure, but we can get some insight into their dynamic with the help of body language expert Blanca Cobb. I asked her to analyze photos of the two of them over the years to see how their relationship has changed, and what it can tell us about their present and their future. Here's what she had to say.