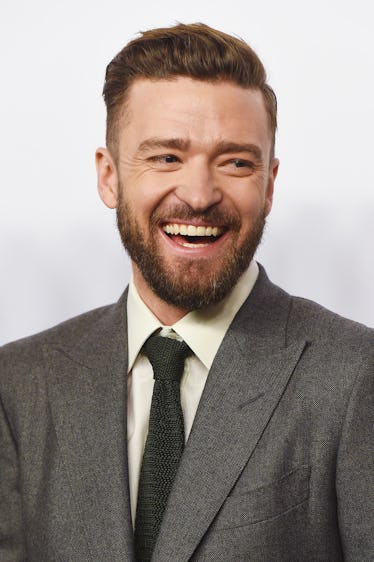 Justin Timberlake's Net Worth Will Make You Want To Cry A River Because It's A Lot
Kevin Winter/Getty Images Entertainment/Getty Images
Oh, Justin Timberlake. You've been rocking our world ever since *NSYNC came about, and have only gotten even more talented as the years go by. He's a singer, songwriter and, oh yes, an actor, and it's pretty obvious that the man is famous for a reason. He has a natural aptitude for being a celebrity, and I can fully support it because that man is a gift to us all. And with all of those skills under his belt, there's no doubt that he gets paid a pretty penny for his work. So, what is Justin Timberlake's net worth? Let's just say his wallet isn't looking empty, and neither is his bank account.
According to Forbes, the iconic pop singer was ranked as the 19th highest paid celebrity back in 2015, and today, Justin Timberlake's net worth is reported to be a staggering $230 million. So basically, he's a millionaire, 230 times over. NBD.
Excuse me while I go check to see if my savings account even has a comma. (Spoiler alert: it doesn't.)
Timberlake started his career back in 1991 when he was cast in the television series The Mickey Mouse Club. As a Mouseketeer (LOL, I know), Timberlake would sing or act in front of a live audience, and what I wouldn't give to have been able to see that. It was there that he met Ryan "If you're a bird, I'm a bird" Gosling, and the two got into all sorts of mischief together.
Oh, you need proof that this happened?
You are all welcome.
After that ended, he went on to be in a little group you all may know as *NSYNC, where he and his bandmates reached boy-band level fame with hits like "It's Gonna Be Me" and "Bye Bye Bye." Though they broke up in 2002 (moment of silence, please), Timberlake continued on with a solo career and the rest is pretty much history.
In his personal life, Timberlake met smokeshow (and my personal lady crush) Jessica Biel through mutual friends in 2007, and when he asked Biel to go out with him, she didn't exactly agree to it. In a press conference with the Hollywood Foreign Press in 2012, he talked about those first moments trying to get Jessica Biel to go on a date with him. He said,
I did it the old fashioned way — by telephone ... That's something I learned from both my stepdad and my grandfather — that there is a thing called chivalry and it doesn't have to die with the birth of the internet. The way I see it, if you're asking a girl out on a date, it's only right to do it in a way that she can hear your voice. I had to be pretty persistent in order to get her to say yes. But I have a fair amount of tenacity and if I want something I stick to it. And in the end she agreed.
Can I just say that I am loving the fact that Jessica Biel basically needed to be talked into a date with Justin Timberlake? Like, what if she said no?
What a different world we'd be living in.
And, just a friendly FYI, according to The Richest, Biel rakes in a cool $18 million herself, so don't think she asks her husband for a $20 bill before she goes out with her friends.
Since marrying, the couple has had one child (a son named Silas Randall Timberlake) and seem to be doing just fine together. It doesn't hurt that Justin Timberlake's new album, Man of the Woods, is set to drop on Feb. 2 (just a few days before his Super Bowl Halftime Performance), and that his tour will be starting up in March, which will undoubtedly add even more dolla dolla bills into his bank account.
Mhm.
Make that money, honey.