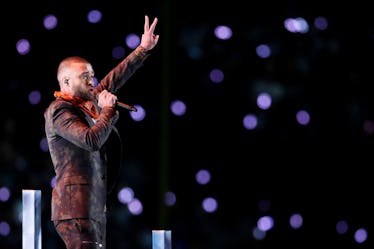 People Are Pissed At Justin Timberlake's Super Bowl Performance For This One Reason
Andy Lyons/Getty Images Sport/Getty Images
Justin Timberlake rocked the Super Bowl halftime performance on Sunday, Feb. 4, and, during his routine, there was one tribute in particular that left people with some questions. Though there was no hologram, Justin Timberlake did honor Prince by projecting his image on a large screen to pay tribute to the late artist in his home state of Minnesota. While some applauded the notion, some fans were upset with Justin Timberlake's Super Bowl performance because of his feud with Prince back when the singer was still alive.
To rewind things: Back in 2007, Timberlake took a dig at Prince in his music video, "Give It to Me," featuring Nelly Furtado and Timbaland. In the video, Timberlake says, "We missed you on the charts last week. Damn, that's right you wasn't there. Now if se-sexy never left, then why is everybody on my sh*t?. Don't hate on me just because you didn't come up with it." While the video doesn't exactly point the finger directly at Prince, the message was pretty clear, considering Prince joked back in 2006 at a post-Emmy party, saying, "For whoever is claiming that they are bringing sexy back, sexy never left!" (Friendly FYI: all of this beef revolved around JT's 2006 hit, "Sexy Back.")
So, yeah, message received, loud and clear.
The feud was taken a step further when Prince was unable to attend the 2007 Golden Globes. As the announcer, Timberlake accepted Prince's award for Best Original Song, but poked fun at Prince's height in the process of doing so:
Kind of cringeworthy, if I'm being honest.
So flash forward to Super Bowl LII, when Timberlake played the piano and sang "I Would Die 4 U," with Prince's image projected and lit up in purple, and you can understand why Prince fans were just a bit less than pleased.
It should also be noted that Prince was not cool with the idea of using digital editing to honor past artists, so this raised yet another point of contention. In an interview with Guitar World, when asked if he would ever try to digitally alter his work to make it sound like he was collaborating with a late artist, he said,
Certainly not. That's the most demonic thing imaginable. Everything is as it is, and it should be. If I was meant to jam with Duke Ellington, we would have lived in the same age ... That whole virtual reality thing... it really is demonic. And I am not a demon.
It's understandable why Prince fans took to social media to express their disappointment with the whole thing:
But listen: Timberlake made a post-Super Bowl appearance on The Tonight Show in Minneapolis, and tried to explain the reason why he paid tribute to Prince, and how he actually got a blessing from Prince's friend, The Roots drummer Questlove, to honor Prince during his performance. Timberlake said, "Questlove is the encyclopedia on music, but I also feel like a gatekeeper on Prince, so if I got the thumbs-up from Questlove, I'm good." He added,
It's a moment for me, and if I'm being quite honest, it's because he's always been the pinnacle of musicianship ... And when we decided that the serendipity and synergy [of being] in Minnesota — he's such a special thing here aside from what he is all over the world. I just felt like I wanted to do something for this city and something for him that would just be the ultimate homage to what I consider the G.O.A.T. [Greatest of All Time] of musicians.
Maybe we can simply appreciate that Justin was paying respect to someone who is arguably one of the most iconic singers of our time, and put any of their past feuds behind us. He gave us one hell of a performance, and to incorporate Prince into that should be something that's memorable for fans of the late artist.